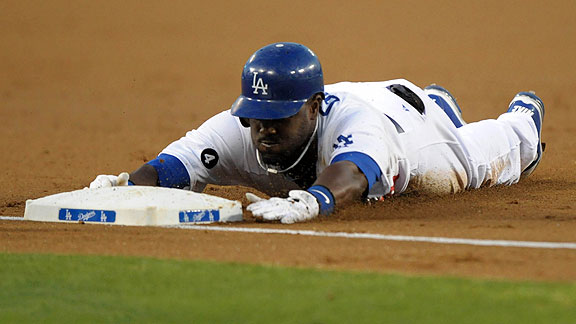 Kirby Lee/Image of Sport/US PresswireTony Gwynn Jr., gettin' dirty.
Paging Mr. Bubble …
This wrapup of tonight's 6-1 Dodger victory over Houston will be a brief ode to Tony Gwynn Jr, who by the time you read this should be having a good time getting nice and purty, almost as much fun as he did gettin' dirty.
Gwynn dove into third base with a triple in the second inning, did a wraparound-the-catcher slide on his belly to score on Kershaw's fifth-inning squeeze bunt, and stole third in the sixth before coming home on Carlos Corporan's throwing error. If you could forget about the Dodgers' record and the fact that it was only the 54th win of the season, this was just a whole lot of fun.
Gwynn all but stole the spotlight from one guy who isn't used to having it (Justin Sellers, who got his first major-league hit) and two guys who are. Kershaw struck out nine in eight innings and didn't allow a run until J.D. Martinez's RBI double in the eighth. The lefty, who allowed six hits and a walk and lowered his ERA to 2.72 while raising his 2011 strikeout total to 193, got the run support he needed with Matt Kemp's two-run home run in the first inning, Kemp's 27th of the year.
Both first-inning runs were unearned, thanks to the first of several mistakes Houston made on the field and basepaths that made the Dodgers' night that much easier. But nothing the Astros did tonight could make things easier for the Dodger clubhouse washing machines.