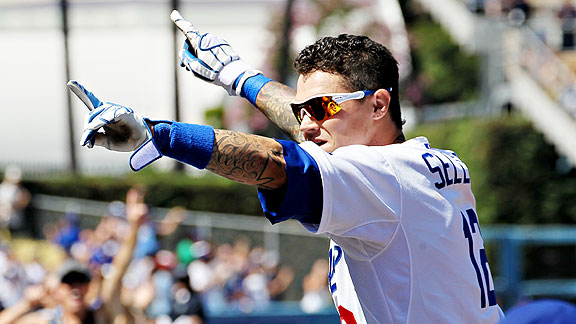 Stephen Dunn/Getty ImagesThe crowd encouraged Justin Sellers to take a curtain call today after his first career home run.
Those involved in the study of contrasts got their Ph. Ds this week if they were following the Dodgers, who followed being swept by the team with the best record in baseball (Philadelphia) with an easy stomping of the team with the worst, Houston.
Today's 7-0 victory meant the Dodgers held the Astros scoreless in 27 of 28 innings, outscoring them 14-1 and almost matching the three consecutive shutouts Los Angeles threw July 7-9.
Hiroki Kuroda pitched seven shutout innings, striking out six against seven baserunners, three of whom were eliminated by double plays. The highlight was James Loney's leaping catch of a Carlos Lee line drive, which Loney turned into an unassisted twin-killing. The third double-play came on Kuroda's 106th pitch of the game and lowered his ERA to 2.88.
Matt Kemp homered for the second game in a row to tie his career high of 28, while Justin Sellers hit his first major-league homer in his third game, a three-run shot in the sixth. Dioner Navarro also homered, as the Dodgers hit a season-high three home runs for the fifth time this season.
Loney singled twice and walked, while Kemp, Navarro and Aaron Miles each reached base twice. Sellers had a nice moment on the Prime Ticket postgame show, taking a shaving-cream pie with grace, then holding his 2-year-old daughter as he completed his interview.