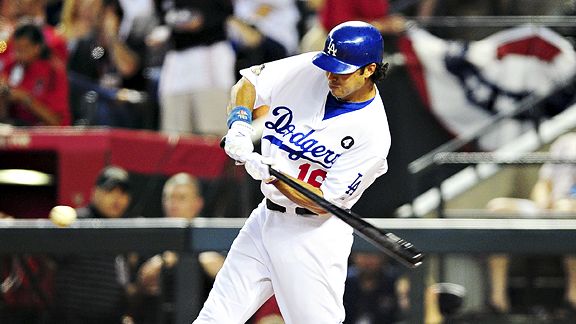 Mark J. Rebilas/US PresswireAndre Ethier's slugging percentage has fallen from .493 in 2010 to .428 this season.
Andre Ethier's OPS has dropped below .800 for the first time since April 3. He has 10 home runs this season and one in his past 107 at-bats.  All this is feeding some simmering frustration about his 2011 performance and even making me wonder to myself ever so briefly whether he might be on a downward, James Loney-like trajectory.
And then, you take a step back and see that in 2011, Ethier has …
a .294 batting average that is .002 higher than last year's and .003 higher than his career average.
a .367 on-base percentage that is .003 higher than both his 2010 and career averages.
5.71 doubles per 100 plate appearances, compared with 5.64 in 2010 and 5.84 in his career.
Most of Ethier's game is the same as it ever was. Except for this one thing.
Ethier has 2.04 home runs per 100 plate appearances, compared with 3.93 in 2010, 4.53 in 2009 and 3.27 for his career.
I'll say up front that I don't know the reason for this — though I still don't believe it has anything to do with his early season hitting streak. Ethier was showing little home-run power even before it really got going, and has had plenty of time to self-correct since it ended on May 7. That being said, Fangraphs shows that Ethier's line-drive and ground-ball rates have risen to near-career-high levels, while his fly-ball rate is the lowest it has ever been.
Just another observation in passing — Ethier seems to be having particular trouble with sliders this year.
But the kicker is this: According to Fangraphs, Ethier has been more valuable this year than he was in 2010 or 2009, thanks to what the site reports as a dramatic improvement in his fielding. I know numerous people take advance fielding metrics with a grain of salt — thanks in part to wild fluctuations like these — but it's something to consider.