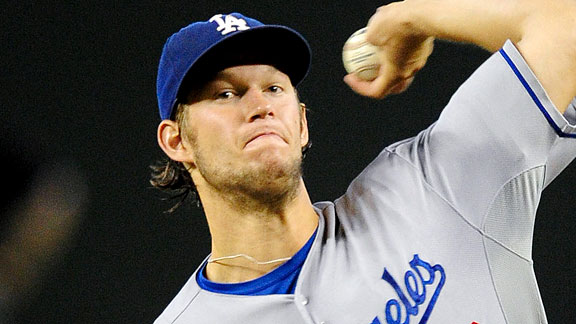 Matt Kartozian/US PresswireClayton Kershaw has approximately eight starts remaining to burnish his Cy Young chances.
As the sub-.500 Dodgers go for their unlikely and incongruous double play – Matt Kemp for National League Most Valuable Player, Clayton Kershaw for NL Cy Young – you'll find that Kershaw is the clear leader among pitchers from non-contending teams.
Kershaw has a 2.72 ERA, an NL-best 9.89 strikeouts per nine innings and 4.9 wins over replacement, according to Fangraphs. With a quarter of the season remaining, none of the other pitchers from the Losers Division match up. In ERA, the only challenger is Cincinnati's Johnny Cueto (1.87), who has thrown nearly 50 fewer innings. Florida's Anibal Sanchez has a strikeout rate of 9.33, but his ERA is 3.97. And the next best in WAR from a losing team, 3.6 by Washington's Jordan Zimmermann (3.23 ERA), is more than 25% lower than Kershaw's. If you look at other stats, you'll find similar lack of competition.
But there are stout rivals for Kershaw among contending teams:
Roy Halladay. We discussed Halladay as a leading MVP candidate, so naturally he belongs atop this list. Halladay has everything, from Old School wins (15, tied for the league lead) to New School WAR (6.7). The latter leads the NL by a wide margin. Given Philadelphia's dominance of the league, Halladay is the logical favorite if you're handicapping this race.
Cliff Lee/Cole Hamels. There's a pretty strong possibility that voters could place Phillies first, second and third on their NL Cy Young ballots. That depends in part on the health of Hamels, who just missed one start because of shoulder inflammation. But if Hamels comes back, he will be all but neck-and-neck with Lee: 2.62 ERA vs. 2.82, 8.11 K/9 vs. 9.25, 5.0 WAR vs. 4.9.
Tim Lincecum. It's a bit easier to sell the idea that Lincecum is no longer the best pitcher in the NL West, but then again, maybe he is. He has a small edge on Kershaw in ERA and park-adjusted ERA; Kershaw's winning on strikeout rate and WAR. I feel like I'm hearing Kershaw's name mentioned with more vigor in the Cy Young conversation than Lincecum's, but big September performances by the Giant righty could reverse that.
Ian Kennedy. Like Arizona in the pennant chase and Justin Upton in the MVP race, Kennedy is coming from behind with vigor (13-2, 2.74 ERA since April 25). With Atlanta's Jair Jurrjens sadly hitting the skids (29 innings, 6.52 ERA since the All-Star Break), one hurdle fell out of Kennedy's way. It seems impossible to think that he could top all the Phillies, but he's positioned himself to be in the conversation and steal some votes from Kershaw, especially from those who value wins (he's tied with Halladay with 15) over WAR (3.2).
John Axford/Craig Kimbrel. The closers for the Brewers and Braves have had fine seasons. Axford has struck out 11.0 per nine innings with a 2.31 ERA (he's inherited only one runner all year), while Kimbrel has a 1.81 ERA and a massive 14.2 K/9 (four inherited runners, all stranded). But the starting pitching alternatives are too strong.
The list of rivals for Kershaw isn't long: As of now, it's just three Phillies and Lincecum, with Kennedy and Cueto lurking. But while Kemp might only need to maintain an edge in the NL MVP field – a challenge in its own right – Kershaw will have make up statistical ground on at least Halladay, while also overcoming the impression that his performance didn't come in high-stakes contests or as challenging a circumstance (pitchers' park, anyone?).
Kershaw is close enough that a down-the-stretch surge could put him in Trophy Town, but no matter what, he'll need some dominoes to fall his way.