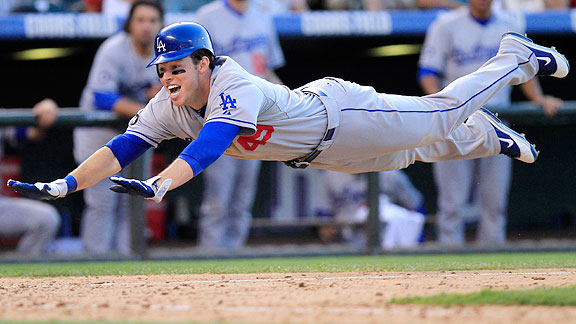 Barry Gutierrez/APHe just smiled and gave me a vegemite sandwich.
"James Loney is running out to the bullpen to get some work in for his role as the #Dodgers emergency pitcher today," the team tweeted this morning.
Eric Stephen of True Blue L.A. has the reason why:
The Dodgers have had four different relievers pitch on each of the last two days:

Scott Elbert threw 25 pitches after throwing 16 pitches Friday
Matt Guerrier threw 23 pitches after throwing 16 pitches Friday
Blake Hawksworth threw 13 pitches after throwing 12 pitches Friday
Mike MacDougal threw 22 pitches after throwing four pitches Friday

Factor in Javy Guerra throwing 32 pitches on Saturday, and Hong-Chih Kuo pitching in parts of two innings and the Dodgers have the makings of a thin bullpen on Sunday. The one reliever I didn't mention was Josh Lindblom, and even he threw 25 pitches yesterday.
There are several different ways the Dodgers could make a roster move to add a pitcher to the bullpen, but anyway …
Loney, of course, pitched in high school, and many thought that would be his path to the big leagues. From the Dodger media guide:
Was a standout as a pitcher and first baseman for Lawerence E. Elkins High School in Missouri City, TX…listed as a pitcher, was ranked by Baseball America as the 46th-best prospect entering the June 2002 draft…in its draft recap, Baseball America tabbed him as the best pure hitter in the draft, as having the second-best professional debut by a high school player selected and the second-closest high school player to reaching the Major Leagues…as a prep senior, hit .509 with eight homers and 56 RBI, while on the mound, he was 9-1 with a 1.80 ERA, striking out 106 in 54.0 innings…earned utility spot on Baseball America's High School All-America first team…his Elkins team was 30-1 and ranked No. 1 in the nation…was slated to attend Baylor had he not signed with Los Angeles.