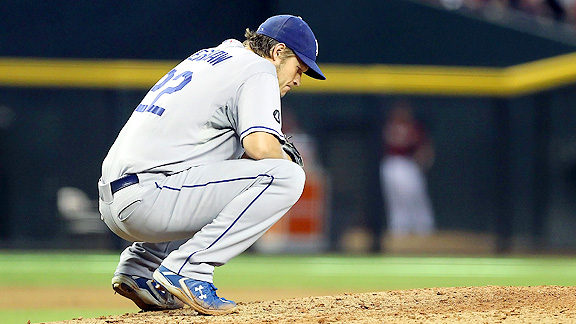 Christian Petersen/Getty ImagesClayton Kershaw briefly becomes fortune's fool by allowing a game-changing two-run home run to Cody Ransom of Arizona on August 7.
Clayton Kershaw isn't exactly having a "what might have been" season, but that didn't stop me from wondering what else might have been.
Kershaw has thrown 2,854 pitches this season. What if the star Dodger lefty could take back just 10.  You know, 10 pitches picked entirely at random … by coincidence, these:
1) April 16 vs. St. Louis: After giving up a single and a walk to Albert Pujols and Matt Holliday, Kershaw retired David Freese on a fly to left. But one out from escaping with a 2-1 deficit, Kershaw gave up a three-run homer to Allen Craig. With 111 pitches thrown, Kershaw was removed before the fifth inning was over for the only time this season.
If it had been an out: one more out, three fewer runs off Kershaw.
2) April 21 vs. Atlanta: Kershaw was one strike away from a complete-game, 2-1 victory three times. After a two-out single by Chipper Jones, Dan Uggla and Freddie Freeman each reached base on 3-2 pitches by Kershaw to load the sacks. With Jonathan Broxton warm in the bullpen, Kershaw threw an 0-2 pitch — his 122nd of the game — that former Dodger David Ross was able to line to left field, driving in two. (The Dodgers rallied to win in 12 innings, 4-2, on Matt Kemp's walkoff homer.)
If it had been an out: one more out, one more victory, two fewer runs off Kershaw.
3) April 26 at Florida: One of two other times this season Kershaw didn't complete at least six innings. With one out in a 2-2 tie in the bottom of the sixth, the Marlins loaded the bases on two singles and a walk. Mike Stanton lined a 2-2 pitch for a two-run single that provided the final margin of a 4-2 Florida victory. Kershaw actually stayed in to walk the next batter, before Mike MacDougal relieved and minimized the damage with a Greg Dobbs double play.
If it had been an out: one fewer loss, one more out, two fewer runs off Kershaw.
4) May 18 vs. San Francisco: Kershaw had 26 1/3 consecutive scoreless innings against the Giants when he gave up a run in the third inning to break a scoreless tie. Then in the fourth, he was cuffed around, allowing four straight singles to start the inning for another run. ""I felt great, but maybe I was a little too predictable," Kershaw told The Associated Press. "I threw just two pitches pretty much and maybe should have mixed in a little more stuff." But the pitch that really had to eat at Kershaw, with the score only 2-0 and pitcher Matt Cain on deck, was the 3-2 fastball that missed against .208-hitting Mike Fontenot, forcing across the third of four runs Kershaw allowed. (Cody Ross later hit a sacrifice fly.) The Dodgers actually rallied to tie this game, 5-5, in the eighth inning, taking Kershaw off the hook, before Lance Cormier served up a three-run homer to Ross in the ninth.
If it had been an out: two fewer runs off Kershaw.
5) June 4 at Cincinnati: This one just killed me. Kershaw was on fire, retiring 15 of the first 16 batters he faced, striking out nine. But in the sixth inning (see, this doesn't just happen to Chad Billingsley), the Reds broke through with a single, a walk and a two-out RBI single by Brandon Phillips to tie the game, 1-1. The next batter, Joey Votto, torched an 82 mph slider for a three-run home run. Kershaw was saddled with two more runs in the next inning, but not for the first time, the Dodgers came to Kershaw's rescue, with Kemp hitting two home runs in an 11-8, 11-inning victory.
If it had been an out: three fewer runs off Kershaw.
6) June 9 at Colorado: The only sequence this season in which Kershaw went two consecutive games without a quality start was completed in Denver, when his opponent bit him once again in the sixth and seventh innings. Leading 4-0 going into the bottom of the sixth and having faced only two batters over the minimum, Kershaw let this one get away in a hurry. Troy Tulowitzki's first-pitch, two-run double put the Rockies on the board in the sixth and prevented Kershaw, who retired the next two batters, from a chance at a clean escape.  Relieved after loading the bases with none out in the seventh, Kershaw was charged with six runs in six-plus innings; the Dodgers lost, 9-7.
If it had been an out: maybe more, but we'll say two fewer runs off Kershaw.
7) June 26 vs. Angels: One strike from finishing the ninth inning in a 1-1, Kershaw gives up a go-ahead home run to Vernon Wells. But thanks to the murderers row of Juan Uribe, Dioner Navarro, Aaron Miles and Tony Gwynn Jr., the Dodgers push two across in the bottom of the ninth to win.
If it had been an out: one fewer run off Kershaw.
8) July 2 at Angels: Kershaw falls behind 2-0 in the count, then throws a 95 mph fastball that Wells (what, again?) blasts for a two-run homer. And it could have been avoided if not for Dee Gordon's ill-advised throw home on a one-out grounder with Jeff Mathis on third base. For the third time this season, Kershaw was charged with a season-worst six earned runs.
If it had been an out: two fewer runs off Kershaw.
9) and 10) August 7 at Arizona: Kelly Johnson soon after packed his bags for Toronto. Cody Ransom had just arrived from the minors. But when their paths crossed Kershaw on this Sunday, with the Dodgers going for a three-game sweep that could have actually put them within eight games of first place in the National League West with about eight weeks to go, each hit a two-run home run — just enough for the Diamondbacks to put the Dodgers back in their place, 4-3.
If they had been outs: one more victory, one fewer loss, one more out, three fewer runs off Kershaw. (Arizona would have still scored a run in the seventh on the Sean Burroughs double that came after Ransom's homer.)
So, what would all this have meant, if we could have our way and we didn't believe in the Butterfly Effect? Instead of being 16-5 with a 2.51 ERA, Kershaw would have saved 20 earned runs with those 10 pitches and would be heading into tonight's game 18-3 with a 1.55 ERA.
Oh well. Guess we'll just have to settle for him as is …