Yeah, I'm scoreboard-watching.
I'm scoreboard-watching because the bumbling fools suddenly look like the Sorcerer's Apprentice.
The Dodgers edged the Braves tonight in 10 innings, 2-1. The Dodgers won their sixth straight game and 11th of their past 12. As I type this, they are exactly 10 games behind Arizona – which represents progress.
But as I type that, Arizona and Ian Kennedy are leading San Francisco and Tim Lincecum in the sixth inning, 4-1. If that lead holds, it will be the Diamondbacks' 79th win, putting them on pace for 92.
Arizona is not giving ground. The Diamondbacks, who finished last season 65-97 and started this season 17-23, are 61-37 since and counting.
The Dodgers' biggest problem right now is that there is one too many magicians in this fable.
* * *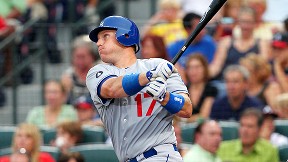 Joe Murphy/Getty ImagesPower-hitter A.J. Ellis rips another homer.
Look at who the Dodgers' heroes were tonight:
A.J. Ellis, the hitter without a professional home run during the Obama administration, hits his second in two weeks to give the Dodgers a 1-0 lead.
Russ Mitchell, 9 for 68 in his career entering the game, pushing things along with two hits in four at-bats.
Nathan Eovaldi, the pitcher who was in Single-A ball last year, scattering three hits and five walks to hold Atlanta to one run over six innings.
Kenley Jansen, completely off his game when the season began and twice on the disabled list as it progressed, showing more of his dominant form, striking out consecutive batters after balking the potential go-ahead run to second base in the seventh inning.
Hong-Chih Kuo, who earlier this season couldn't be counted on to confront a single batter, coming back 24 hours after pitching two shutout innings and inducing three soft ground balls.
Mike MacDougal, a non-roster invitee to Spring Training who has been asked to pitch above his paygrade most of the season, making Brooks Conrad miserable with three straight breaking balls for strikes to end the ninth inning.
Dee Gordon – scheduled arrival, 2012 – sprinting to second base on a simple hit to right-center to lead off the 10th inning.
James Loney, the DOA first baseman, adding a 2 for 3 night to his current hot streak while also following his manager's inexplicable commands not only to bunt Gordon from first to second in the eighth inning, but from second to third in the 10th. (Each bunt led to an intentional walk for Matt Kemp, meaning that the Dodgers' hottest hitters of late and of the season were not allowed to swing.) Loney's previous career-high in sacrifice bunts for a season was one.
Juan Rivera – this year's dumpster dive – producing again, hitting a sacrifice fly in the 10th to score Gordon with the Dodgers' second run.
Javy Guerra, the unassuming closer, closing out the 10th on nine pitches.
You can be excused for wondering what exactly happened to the team you suffered through most of this season. You could be excused for thinking, for a moment, "Could they … ?"
But those Diamondbacks …
* * *
Clayton Kershaw is pitching Sunday. Kershaw was the pitcher on a Sunday four weeks ago, when the Dodgers were making their biggest move in the pennant race this summer. They had won four out of five games to move within nine of Arizona for first place in the National League West. If Kershaw could beat Kennedy, the Dodgers would be eight games behind with 7 1/2 weeks remaining, with a sweep of the Diamondbacks in their rear-view mirror. The Dodgers wouldn't need magic to make a move – they could use simple physics.
But Cody Ransom homered, and the Dodgers were back to wishful thinking.
Four weeks later, the Dodgers are on an 11-1 run. But when an 11-1 run only pulls you within 10 games of first place, you are dreaming. So what's the point?
What can I tell you? Winning and wondering are still fun, whenever they come. Even the Sorcerer's Apprentice puts on a good show.