Don Mattingly did the right thing by having Javy Guerra pitch the ninth inning with the Dodgers and Diamondbacks tied, 4-4, in the ninth inning Tuesday.
But after following his perfect ninth by coming back out for the 10th inning, Guerra ran out of gas. With two out and two on, Guerra walked Paul Goldschmidt and Chris Young on eight total pitches, forcing in the winning run for the Diamondbacks in a 5-4 victory.
Guerra ended up throwing 38 pitches in taking the first loss of his career, one in which Arizona rallied from a 4-2 first-inning deficit.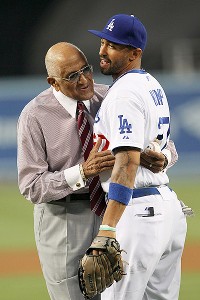 Stephen Dunn/Getty ImagesDon Newcombe hugs Matt Kemp after throwing out the ceremonial first pitch Tuesday.
Dodger starting pitcher Chad Billingsley had a mixed outing. He gave up a two-run home run to cleanup-hitting catcher Miguel Montero with two out in the first inning and another run on three baserunners in the third inning. He then retired 11 of his final 12 batters, leaving the game with the bases empty with one out in the seventh inning.
So it was a pretty nice salvage job for Billingsley, but there still has to be concern. He struck out only two batters, meaning that over his past nine starts, he's averaging 3.33 strikeouts per game, with almost exactly that many walks. Something still isn't right.
Nevertheless, the Dodgers put Billingsley in position for the win – while also perhaps putting a nail in the coffin of Ian Kennedy's Cy Young Award chances – by scoring four runs in the bottom of the first inning off the Arizona starter. Dee Gordon doubled to lead off the game, and Justin Sellers blooped him to third. Matt Kemp hit a sacrifice fly, before James Loney, Aaron Miles and Jerry Sands (2 for 2 with two walks, on base in seven of his past eight plate appearances) each followed with RBI hits.
But the Dodger offense had no runs on four hits and three walks over the final nine innings of the game, which was rather lackadaisical while Billingsley and Kennedy were in there –  and rather heated right after they left.
After striking out pinch-hitter Collin Cowgill, reliever Hong-Chih Kuo threw a first pitch to Gerardo Parra high and inside, forcing the Arizona leadoff hitter to duck out of the way. Parra acted as if he thought Kuo (who has not exactly been masterful with his location this season) was headhunting with the tying run at the plate.
Parra soon took a 3-1 pitch over the fence in right-center field to deadlock the game, and in doing so did that stand-and-watch thing that's become so popular with the kids nowadays. This infuriated folks in the Dodger dugout, perhaps no one more than Clayton Kershaw, who will be starting Wednesday's game.
If you'll recall, Kershaw was ejected and suspended last summer for a retaliatory shot at the Giants' Aaron Rowand, and all I want to say to the Dodgers' young Cy Young candidate is that my friend, Gerardo Parra is not worth your time. You don't need to prove anything to anyone – not now.