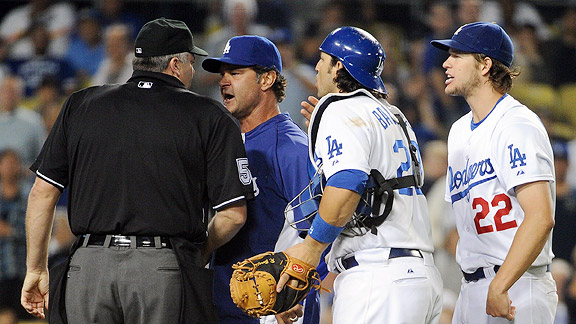 Harry How/Getty ImagesShiny unhappy people
Clayton Kershaw, who was working on a one-hit shutout with none out in the sixth inning, was ejected after hitting Gerardo Parra above the right elbow with a pitch.
Kershaw had put umpires on guard with his angry reaction to Parra's showmanship after a home run off Hong-Chih Kuo on Tuesday, so there was really no wiggle room for him, regardless of what his intent in the moment was.
In the third inning, Kershaw had Parra down 0-2 when the outfielder hit a line-drive double to left-center just out of the reach of leaping shortstop Dee Gordon. That was the only baserunner off Kershaw until he came up again in the sixth.
The 0-1 pitch to Parra rode in and clipped him above the front elbow, and Kershaw was immediately ejected by home-plate umpire Bill Welke.  Kershaw protested vehemently, as did manager Don Mattingly, who was then ejected himself.
Kershaw left the game with five strikeouts, having reduced his ERA to 2.30, which put him back in the league lead ahead of Johnny Cueto by 0.01 and Roy Halladay by 0.06. If the Dodgers can hold their 2-0 lead over the remaining four innings, Kershaw's record would improve to 19-5.