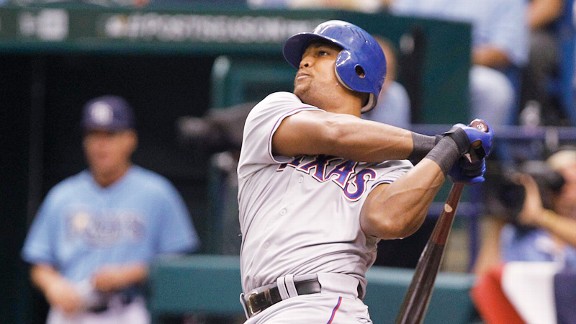 Lynne Sladky/APAdrian Beltre hit 147 home runs in seven seasons with the Dodgers, all before turning 26.
Adrian Beltre, who hit three home runs today in the Texas Rangers' 4-3 victory over Tampa Bay (clinching their American League Division Series), has 2,033 hits and 310 home runs in his career at age 32, to go with a superb defensive reputation. How many of you think the former Dodger third baseman will play well enough, long enough, to win the favor of Hall of Fame voters?
Beltre is likely to finish in the top five all-time among third basemen in hits, though I imagine he'll need to make it all the way to 3,000 to win enough Hall votes and avoid the fate of the Ron Santos of the world. When his time comes, would that number still be a golden ticket, or could something like Beltre's relatively low on-base percentage hold him back?
Texas has Beltre under contract for four more seasons, with a vesting option for a fifth. If he can average 140 hits per season, he'd be in the 2,700 or 2,800 neighborhood when his contract expires.