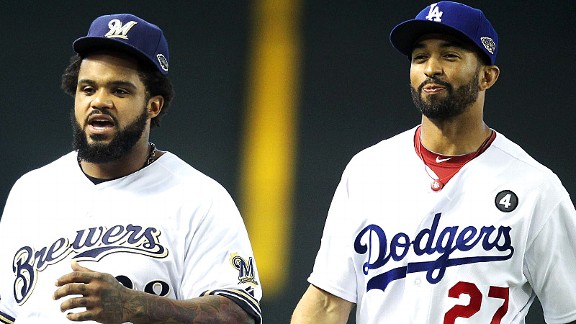 Christian Petersen/Getty ImagesFuture teammates? (In Los Angeles, we mean.)
If the Dodgers lived in a world of riches and roses, they would sign Albert Pujols or Prince Fielder, get as much value in exchange for James Loney as they could, and greet the 2012 season with high hopes.
Now let's talk about the world they actually live in.
It's a world that I've believed does not include any realistic possibility of Pujols or Fielder coming to Los Angeles except in the visitor dugout. Even if the imminent hearing on Frank McCourt's ability to auction off the team's TV rights results in the final blow to his ownership, I've felt there would be too much chaos this winter to allow the Dodgers to commit, if I'm low-balling it, what would be a minimum of $150 million for a Fielder signing.
Plus, there's an argument that even if all was normal with the Dodgers – and by normal, I'm referring to the Dodgers as they've been at their best, as opposed to the Dodgers spending like the Yankees – the team shouldn't be pursuing Fielder or Pujols, much less aging, gimpier players like Carlos Beltran (35 in April) or Aramis Ramirez (34 in June).
The Dodgers will have no more important long-term signings to pursue than Matt Kemp before the end of the 2012 season and Clayton Kershaw before the end of 2014. Each of those players will require contracts that, at some point, are paying them more than $20 million annually. In the middle of this decade, the Dodgers could be spending more than $40 million a year on those two players alone. And I hope they do, because both Kemp and Kershaw are great bets to make good on the deals, and because the Dodgers are long overdue for some great, homegrown players to spend a solid decade or more with the team.
So, is it really sensible to turn that into $60-plus million per season on three players? It's hard not to notice, for example, that neither of the two teams playing in the World Series have devoted that much of their payroll to so few players.
St. Louis paid Matt Holliday $17 million this season and Pujols (in the last year of an eight-year contract signed before he could become a free agent) $16 million. Chris Carpenter made $15 million, but no other hitter who started the season with the Cardinals made more than Lance Berkman's $8 million.
Texas paid Michael Young $16 million and Adrian Beltre $14 million in 2011. Josh Hamilton, like Kemp a potential free agent after the 2012 season, made only $7.25 million.
You can look at those bullet points two ways, actually. On the one hand, you don't need a $20 million player to make the World Series. On the other hand, spending even $30 million on two guys doesn't guarantee you'll have enough to fund the rest of a championship team – Texas and St. Louis were anything but locks to play in the season's final week.
Pujols will be 32 when he starts his next contract and near 40 when it ends. Fielder is younger than Pujols, but would be closer to 300 pounds than perhaps any Dodger ever. (Beats Frank Howard, right?) Even if the Dodgers were in the best financial shape of their lives, doesn't part of you imagine that if Pujols or Fielder signed with Los Angeles, somehow, some way, something would go wrong? Horribly wrong?
So guess what. The Dodgers should sign Prince Fielder.
Betcha didn't see that coming.
Here are the reasons:
Fielder, who is only 4 1/2 months older than Kemp, might not play until he's 40, but no one's going to give him a 12-year contract. The big first baseman should be good for the next several years easily. For all the concerns about his physical condition, he has averaged 160 games per season since 2006.
He is truly awesome, not only supplying mammoth power (that admittedly would decline some playing regularly in Dodger Stadium) but also the mammoth on-base percentage that made Manny Ramirez so valuable during his Los Angeles heyday. Fielder's lifetime OBP is .390, including .381 in road games (.386 in 70 plate appearances at AT&T Park, if that sort of thing interests you). That ability isn't going to go away anytime soon.
He would be a bird in the hand. He would be insurance in case Kemp, who might command more as a free agent, proves too difficult to come to terms. His presence could also help entice Kemp to stick around, given how he would feel about having Fielder in the cleanup slot (although at the end of the day, the best contract offer will carry the biggest weight for Kemp, plain and simple).
The Dodgers – even the bankrupt Dodgers – can afford him.
That last point is the one I've sort of put out of sight, out of mind, out of a belief that it wasn't even worth thinking about. But then, I started to think about it.  The Dodgers could always backload a Fielder contract so that the hefty portion (pun acknowledged but not admired) comes after the post-2013 local TV contract money can be accessed. However, the Dodgers should be able to afford Fielder even if they pay him the proper amount starting next year.
The Dodgers have a somewhat shocking amount of 2012 payroll commitments: over $100 million. But then you notice that roughly $20 million of that total is allocated for Loney and Andre Ethier: two players coming off mixed seasons, two players who themselves will be eligible for free agency a year from now and unlikely to be resigned. If you replaced those two players with Fielder and an up-and-coming minor-leaguer, the Dodgers might be better off, if not next year, than as the decade goes on.
Let me reiterate that a Kemp-Fielder combo doesn't get the Dodgers automatically credentialed into the 2012 World Series, any more than a Ryan Braun-Fielder combo did for Milwaukee in 2011. With or without Fielder, the Dodgers are an ownership-challenged team with holes at second base, on the bench and, pending what happens with Hiroki Kuroda, in the starting rotation.
Essentially, those problems will exist even without Fielder. Signing Fielder might even help solve one of them, by allowing them to trade Ethier. At any rate, I'm confident a Fielder signing wouldn't mark a repeat of Andruw Jones.
If it's a choice between Kemp, Kershaw and Fielder, then Fielder is the lowest priority for me on that list. But it doesn't necessarily have to be a choice.
It won't be heartbreaking if the Dodgers don't sign Fielder as a free agent, and it certainly won't be surprising. It could, however, be very, very cool.