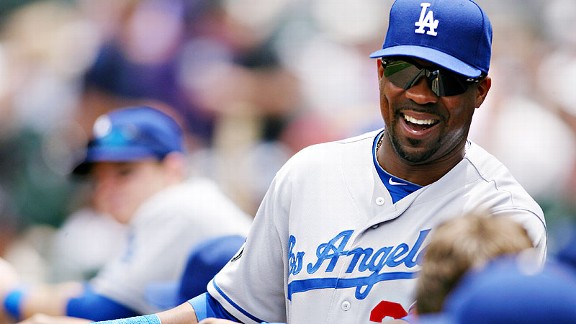 Chris Humphreys/US Presswire
Marcus Thames
(32)
The setup: Seeking to build a left fielder in Mr. Potato Head fashion, the Dodgers signed Thames in January to be the right hand of the tuber, based on the fact that he had a .350 on-base percentage and .491 slugging percentage against lefties in 2010. He was going to be 34 and had a terrible defensive reputation, but for $1 million, there was hope he could be useful at least as a bench player.
The closeup: In April, Thames hit two pinch-hit home runs. That's about it for positives. As a left fielder, Thames went 8 for 42 with four walks, no home runs and a .523 OPS in a season that was crippled in May by a right quad strain that knocked him out for five weeks. Overall, Thames had a .243 on-base percentage and .333 slugging percentage when the Dodgers cut him loose to make room for Juan Rivera, who provided everything the Dodgers wanted from Thames and more.
After clearing waivers, Thames signed a minor-league contract with the Yankees. He was assigned to the Yankees' minor-league complex and was supposed to eventually report to Triple-A Scranton, but he did not play in a professional game the remainder of the year. The only news I could find about him was this recent Winston-County Journal piece describing his appearance as a guest speaker at the local Boys & Girls Club – something, based on his background, that is not surprising at all.
Coming attractions: Only one season removed from being a productive part-timer, Thames could easily reappear in a major-league uniform next season if he is healthy and hasn't in fact quietly retired, but you can bet if he does make another go of it, it will be in the American League.