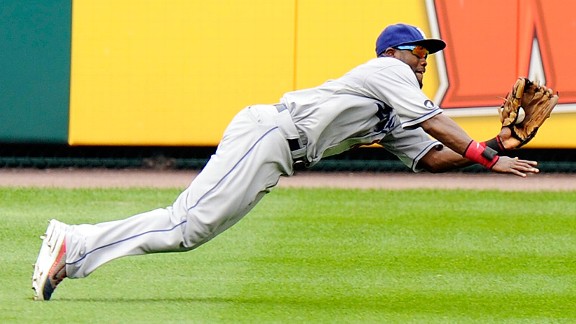 Greg Fiume/Getty Images
Tony Gwynn Jr.
(34)
The setup: Gwynn's defense and speed have never been in question, but his bat always has been, especially after a .591 OPS with San Diego in 2010 at age 27. The Dodgers risked only $675,000 on the possibility that he could help the team nonetheless. Reasons for optimism included his recovery from a broken hand and his dad's recovery from cancer.
The closeup: It was a season of ups and downs for Gwynn, who could have two extra-inning hits in one game, then go for a month without a hit to the outfield. He entered June with a .230 on-base percentage, .277 slugging percentage and the threat of an early release, but he went .377/.389 with 10 steals over the next two months, including a 7-for-11 batting spree over two days in late June, followed by a July 1 game in which he reached base in all six plate appearances.
He finished 2011 with a .308 on-base percentage, a career-high .353 slugging percentage and 22 steals in 28 attempts. The guy whose biggest worry was his bat ended up sixth on the Dodgers in plate appearances. Though he was forced to play out of position, he provided in left field the best defense of any Dodger player, subjectively if not statistically.
Coming attractions: Gwynn's future as a Dodger has been little-discussed. Though he was signed on the open market, that came after San Diego non-tendered him in December 2010, and he is eligible for salary arbitration with the Dodgers and won't be a free agent unless they choose to let him go. Working off such a relatively low 2011 base salary, Gwynn's 2012 figure doesn't project to be much more than $1 million. With the Dodgers' 2012 bench wide-open at this point, it seems logical that he could return in the same role.