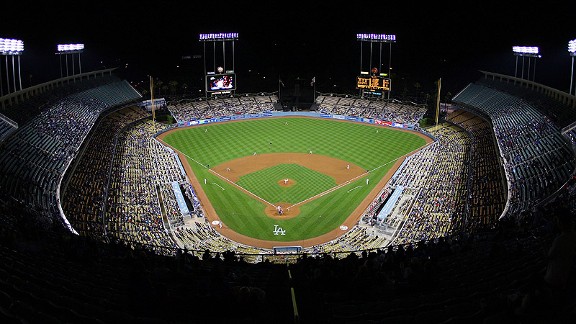 Paul Spinelli/MLB Photos/Getty Images
Home, where my thoughts escape, at home, where my music's playin'
Home, where my love lies waitin' silently for me
We have worried, we have raged, we have sulked, we have sworn, we have screamed, we have sighed, we have yearned, we have cried. Outside we have tried to fight, and inside, more than a little, we have died.
But now, deliverance. Deliverance to what, we don't know. But deliverance nonetheless.
Here is the joint statement from Major League Baseball and the Dodgers, released Tuesday night:
"The Los Angeles Dodgers and Major League Baseball announced that they have agreed today to a court supervised process to sell the team and its attendant media rights in a manner designed to realize maximum value for the Dodgers and their owner, Frank McCourt.  The Blackstone Group LP will manage the sale process."
Tony Jackson of ESPNLA.com has more:
Owner Frank McCourt reached an agreement with Major League Baseball on Tuesday night to sell the Los Angeles Dodgers, along with Dodger Stadium and the surrounding real estate, a decision that brings to end not only a six-month legal battle with Major League Baseball commissioner Bud Selig but also a 7½-year ownership that was simply never embraced by the team's fan base.
Bill Shaikin of the Los Angeles Times first broke the news:
Frank McCourt agreed Tuesday to sell the Dodgers, abruptly surrendering the team after fighting to retain it over two years and in two courts.

McCourt and Major League Baseball have agreed to seek approval from the U.S. Bankruptcy Court for an auction of the Dodgers. The sale is expected to include the team, Dodger Stadium and the surrounding parking lots, a package bought by McCourt for $421 million in 2004 and likely to sell for two to three times as much now.

The league hopes a new Dodgers owner can be in place by opening day. …

Opening Day? Won't tomorrow feel a little like Opening Day?
The cloud that's been over the Dodgers was no ordinary cloud. Southern California or not, Dodgers fans are used to walking through some rain. But this cloud was toxic. It wasn't that Dodgers fans couldn't stay dry — it was that they had trouble breathing.
But now, we can breathe again. Now, we can have normal problems. Problems like everyone else. Will you have ever been so happy just to worry about what happens next with the team?
We know all too well from the end of the Fox era that a sale of the team doesn't guarantee anything. But this is the kind of second chance that galvanizes you. Everyone, I'm confident, will be smarter this time around. Not perfect. Just smarter. Can you ask for more?
The news seems to call out for something longer, something epic. But it's not really all that complicated, is it?
My friends, it's time to have some fun.
An informal rally has been scheduled by Save the Dodgers at 6 p.m. at Dodger Stadium to celebrate.