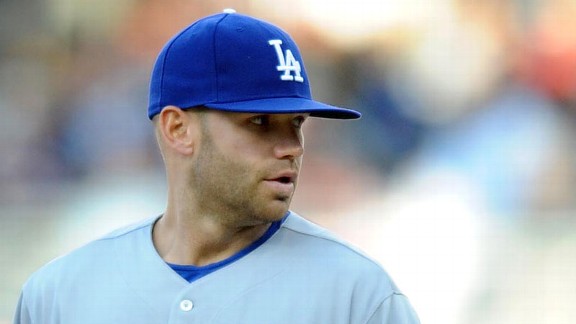 Christopher Hanewinckel/US Presswire
Blake Hawksworth
(35)
The setup: After signing Juan Uribe a year ago, the Dodgers were looking to unload aribtration-eligible infielder Ryan Theriot, their midseason acquisition from Chicago who had OPSed .606 for them but stood to earn more than $3 million in 2011. Theriot was traded on November 30 for Hawksworth, who in 2009 had a 2.03 ERA in 40 innings (all in relief) despite striking out only 4.5 per nine innings, then faltered as a swingman in 2010 with a 4.98 ERA (5.83 in eight starts).
The closeup: As a reliever in 2010, Hawksworth had a 4.25 ERA with a .822 opponents' OPS while allowing 45 percent of inherited runners to score. As a reliever in 2011, Hawksworth had a 4.08 ERA and allowed 50 percent of inherited runners to score – but with a .651 opponents' OPS and a career-best 7.3 strikeouts per nine innings. Go figure.
Hawksworth had hot and cold runs like that ERA would suggest. Coming back from nearly a month on the sidelines with a groin strain, Hawksworth had a 1.69 ERA in 10 2/3 innings in June with eight strikeouts against seven baserunners and six of eight inherited runners stranded, twice striking out the side in an inning. But from July 27 through September 4, he was only good for an 8.40 ERA in 15 innings with 12 strikeouts against 25 baserunners.
Coming attractions: Hawksworth, 29 in March, won't be eligible for arbitration for one more year, so he should be back in the Dodger bullpen at a modest salary (no more than $500,000).