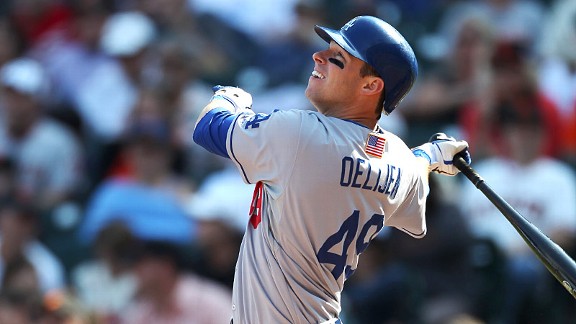 Brad Mangin/MLB Photos via Getty Images
Trent Oeltjen
(38)
The setup: Oeltjen made his Dodger debut in September 2010, starting out 4 for 11 before ending up 5 for 23 with a double, triple and four walks (.705 OPS). He was re-signed in December to a minor-league contract and batted .421 in Spring Training, but he began the season, as most expected, in Triple-A.
The closeup: Before his June 9 promotion to Los Angeles, Oeltjen batted .339 in 56 games for Albuquerque, which is interesting because of another fellow who batted .339 in 55 games for Albuquerque until his promotion: Eugenio Velez. And while Oeltjen did not sink to the lows of Velez in a Dodger uniform this year, he didn't exactly have a whole lot of success, especially in the second half.
On June 27, Oeltjen had a career game with a walk, two singles, a triple and a home run in five plate appearances. When he singled as a pinch-hitter two days later, the 28-year-old had a .481 on-base percentage and .667 slugging percentage in 28 plate appearances as an '11 Dodger.
But from July 1 on, Oeltjen went 6 for 50 with one extra-base hit (a home run at Colorado) and eight walks for a .250 on-base percentage and .180 slugging in 63 plate appearances. In other words, during Velez's hitless tenure with the Dodgers that began July 4, Oeltjen had only five more hits. So while Velez was basically wasting one roster spot for July and August, Oeltjen was arguably wasting another.
Of course, thanks to what came before, Oeltjen's final 2011 numbers – 322 on-base percentage, .324 slugging – look wonderful compared to Velez's.
Coming attractions: Oeltjen remains on the 40-man roster for now, and will compete to stick as a backup outfielder in 2012. He is an incumbent, after all. But with a career .299 OBP and .384 slugging in 194 plate appearances, he'll be looking over his shoulder.