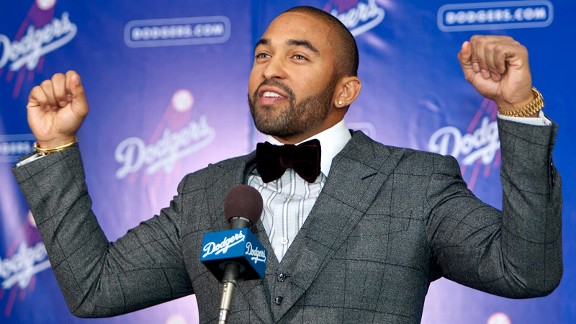 Damian Dovarganes/APMatt Kemp celebrates his new contract in the Dodgers' new home uniform.
The breakdown of Matt Kemp's new Dodger contract, now officially running through 2019, comes from Ramona Shelburne of ESPNLosAngeles.com and The Associated Press.
It's not exactly $20 million each year, but the difference in future years doesn't figure to be significant, unless you're the kind of guy or gal who frets over $22 million vs. $20 million.
In 2012, Kemp will make $10 million, which includes a $2 million signing bonus due by April but not $2 million that will be deferred for a year.
2013: $22 million, including the $2 million deferred from 2012.
2014: $21 million
2015: $21 million
2016: $21.5 million
2017: $21.5 million
2018: $21.5 million
2019: $21.5 million