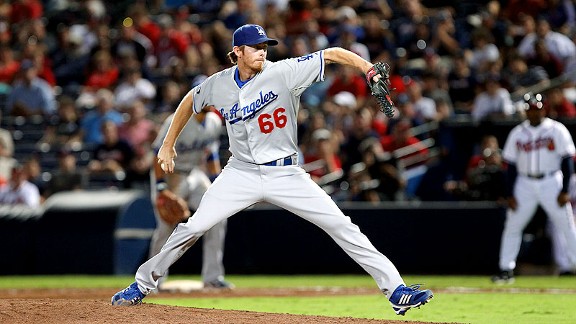 Joe Murphy/Getty Images
Mike MacDougal
(41)
The setup: After a 4.31 ERA with 5.6 strikeouts per nine innings in 2009, MacDougal all but pitched himself out of the majors in 2010 by allowing 15 runs in 18 2/3 innings for St. Louis. When the Dodgers signed him to a minor-league contract at the end of January, I set up his challenge thusly: "Since 2007, MacDougal has allowed more than 16 baserunners per nine innings in the majors. In trying to make the major league bullpen for the Dodgers, MacDougal will have competition from such righties as Jonathan Broxton, Kenley Jansen, Vicente Padilla, Matt Guerrier, Ronald Belisario, Blake Hawksworth and Ramon Troncoso."
The closeup: MacDougal not only ended up pitching more innings for the Dodgers than all but one of those names, he finished the year with the lowest ERA on the entire staff: 2.05. Now, if you were paying attention, you'll know that latter figure is tainted: He allowed 17 of 51 inherited runners to score. It was actually much worse before the All-Star break, when he allowed 13 of 33 inherited runners to come home – nearly 40 percent. His second-half numbers (4 of 18) were respectable. He struck out 6.5 batters per nine innings but allowed 13.1 baserunners. So, he was effective, but then again he wasn't, but considering his $500,000 salary, then again he was.
MacDougal got his only save of the year in the Russ Mitchell game. After the Dodgers took a 6-3 lead in the top of the 10th inning against the White Sox, Matt Guerrier allowed two leadoff singles. Two outs later, MacDougal entered the game with the tying run at the plate, threw three pitches and retired Paul Konerko on a grounder to second.
Coming attractions: Inherited runners or not, this was a rebound season for MacDougal, one that should modestly increase offseason interest in the free agent. From the Dodgers' standpoint, it's again a numbers game. Javy Guerra, Jansen, Guerrier,  Hawksworth and Josh Lindblom are righties who should nail down spots on the roster, leaving at most one opening. But of course, things always get wacky in the bullpen. No doubt Ned Colletti would be interested in retaining MacDougal for depth, but price could be an object.