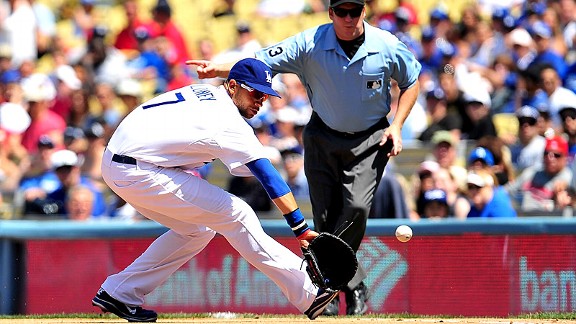 Gary A. Vasquez/US Presswire
James Loney
(42)
The setup: Patience was wearing thin for the 2002 No. 1 draft pick after his offense declined for the fourth consecutive season at age 27. He actually took an .803 OPS into the 2010 All-Star break, but floundered to .616 thereafter. Adding to the disconcerting power drought was a walk/strikeout ratio that declined from 1.03 in 2009 to 0.55.
The closeup: What a strange year.
As early as April 9 came a short post with the headline, "The lowest moment of James Loney's career?" after he was told to bunt with a runner on second base and none out in the 11th inning of a game against a right-handed pitcher. While we would come to learn that extraneous sacrificing was perhaps the biggest foible of Don Mattingly's rookie season as manager, things actually sunk lower for Loney before they got better. With a .194 on-base percentage and .213 slugging on April 25, Loney caused us to begin ruminating about the future of the worst-hitting regular in major-league baseball.
… The problem is not that Loney will hit this poorly forever – he won't. The problem is that it seems less and less unlikely that, after three consecutive seasons of decline from 2008-10, he'll take the step forward that the Dodgers have been counting on him to take.

If Loney can't offer better than the league-average hitting that has defined his past three years – and now he has even further to go to reach that goal – there's little chance the Dodgers can continue using him as their starting first baseman, whatever you think of him as a defensive player or RBI man. They will part ways with him after the season, if not sooner.

It pains me to say it because I've always liked Loney. As I said earlier this month, my theory is that the bid to coax more homeruns out of Loney has had the opposite effect, messing him up to the point where not only is he not hitting home runs, he's not hitting doubles either. Loney, who had 41 doubles in 161 games last year, has just one in 24 games this year, to go with his sole home run three weeks ago. …

With a .534 OPS by mid-May, he was still on his way to one of the worst starts in post-1988 Dodger history, though by this time the rebound had begun, and the countdown to his being non-tendered was put on hold. In a reversal of 2010, Loney's offense shot up in this year's second half to a .914 OPS that, unadjusted for park effects, was 14th in the National League. A popular theory was that new hitting coach Dave Hansen helped; though the timing might have been mostly a coincidence, Loney's mechanics had changed by the season's latter months.
The sum total of it all was another substandard season for a first baseman. Finishing 2011 with a .339 on-base percentage and .416 slugging percentage, Loney was 19th offensively among MLB first basemen with at least 502 plate appearances according to Fangraphs, though his defense bumped him up a few slots. Though he hit seven home runs in his final 40 starts, he ended 2011 with only 12, failing again to reach his career high of 15, set in 96 games in 2007.
Coming attractions: With the Dodgers' elimination from the Prince Fielder-Albert Pujols festivities etched in everything but stone, Loney is set to get at least one more shot at first base before becoming a free agent at the end of 2012.  No one would dare guarantee greatness from him at this point; the safe bet, after four straight years with OPSes in the .700s, is more of the same.
Nevertheless, I don't find it outlandish to suggest that the form he displayed after his season-opening slump in 2011 could continue throughout 2012. In fact, his OPS from April 26 to the end of this past season was .828 – get him to the starting gate quicker in 2012, and he'll have what for him will be a career year. That the Dodgers need even more than a career year from him is a larger issue.