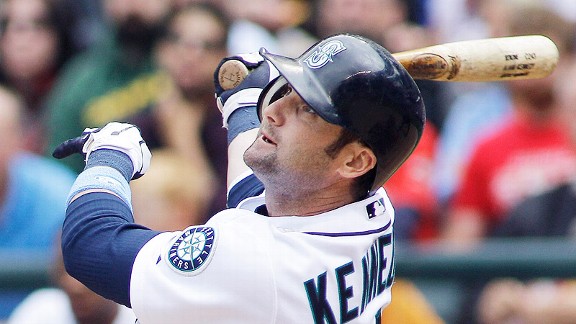 Ted S. Warren/APDespite how it may appear, this photo shows Adam Kennedy hitting an RBI single off Cole Hamels, not a pop out. Granted, it was
a bloop single …
In 2002, he was a postseason hero for the Angels, but if he is to do the same in 2012, Adam Kennedy will do so as the guy who steps in for the Dodgers if and when Juan Uribe or Mark Ellis get hurt.
Tony Jackson of ESPNLosAngeles.com reports that the Dodgers are close to signing Kennedy, who will be 36 in January, to a contract that presumably would bind both parties to each other for some period of time. Kennedy would take the place of Aaron Miles from the 2011 team and probably pushes Russ Mitchell down the 2012 depth chart back into the minors, at least for now.
Kennedy struggled to a .277 on-base percentage and .355 slugging percentage in 409 plate appearances last season, though that was with his home games in the poor hitting environment of Seattle. His last solid season was in 2009 with Oakland, when he produced a .348 OBP and .410 slugging in 586 plate appearances.
Assuming he makes the team, the left-handed hitting Kennedy would be the primary backup at second base and third base, with Justin Sellers competing with Mitchell and any other incoming detritus for the other backup infield spot. If Sellers didn't make the team, then Uribe would probably become the Dodgers' backup shortstop behind Dee Gordon.
If Kennedy's contract is the equivalent of the minor-league deal that led to Miles' run as a Dodger, then that's a no-risk deal that anyone can live with. But if it starts to move toward or beyond Dioner Navarro territory, one might start to wonder what the point is.