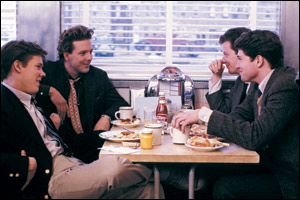 This one was a real labor of love for me — my Variety story on Diner looking back at the movie on its 30th anniversary and looking ahead to its reincarnation on Broadway this fall.
This film is one of my early inspirations: so funny and so poignant. Here's how the story begins …
"Diner," written and directed by Barry Levinson, is a wonderful movie.

That simple sentence began a lengthy, thoughtful review by Pauline Kael in the April 5, 1982, New Yorker, a review that saved a cinematic gem from quick extinction — and, as it turned out, helped pave the way for a Broadway musical decades later.

This spring will mark the 30th anniversary of "Diner," Levinson's inaugural effort as a helmer, which simultaneously celebrated and deconstructed the late-1950s Baltimore of his youth. Come the fall, Levinson's "Diner" tuner adaptation, with music and lyrics by Sheryl Crow, and with Kathleen Marshall directing, will bow on the Rialto.

Set design has begun, with final casting to take place in the spring in advance of what will be an out-of-town test run in the summer.

The rebirth of "Diner" has stirred excitement about the musical (mixed with guarded curiosity) from those who remember the film for both its comedy, centered on the exploits of six Baltimore buddies, and its insightful commentary on communication bumps and bruises between the sexes.

In an age of four-quadrant blockbuster mindsets, the blossoming of what was such a personal project into a franchise is noteworthy. Though movies of such intimate scale often disappear, a few can pay off for decades.

Still, if the legit adaptation has any naysayers, that would only make sense. Ultimately nominated for an original screenplay Oscar, a Writers Guild award and a Golden Globe, "Diner" would have been relegated to an MGM dustbin if not for the power of Kael's pen, say Levinson and his colleagues.
I watched this movie on a regular basis in my teens and 20s, but when I checked it out again last month in preparation for this story, it was heartening to how fresh and vibrant it was. It holds up remarkably well, something I would attribute to Levinson's absolute precision with the material and the great work by the cast, which made a moment in time so timeless.
In a sense, this was Seinfeld before Seinfeld: light on plot but heavy on conversation and just trying to make it through the simple and the ridiculous parts of life. But it has a yearning that Seinfeld dropped pretty much by its second season. These guys (and Beth) want something better for themselves, but they don't really know how to get it — in fact, most of them can't even admit they want it.
Seinfeld would have the equivalent of the football quiz, the Carol Heathrow bet at the movie theater, "Are you gonna eat that?" But it wouldn't have had Shrieve's at once hilarious and harrowing verbal beatdown of Beth over his records. It didn't, and wouldn't, have had the ending that Diner had.
Not that I intended this to be a Diner vs. Seinfeld discussion. Both are classics.  But while I loved Seinfeld, writing my own Diner would be my dream. There's hardly a moment in the film that isn't kinda quietly brilliant.
They made it look so easy, Levinson and his gang. They're just stories, right? Just people talking. And yet it's so rich. Most of the stuff I've ever written on my own has aspired to be like some combination of "Diner" and a few other movies like "The Misfits" mixed in. Someday …
So, I hope you enjoy the story. For me, it's a smile.