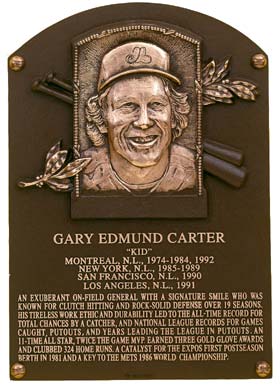 Gary Carter, the Hall of Fame catcher who spent 1991 with the Dodgers, passed away from brain cancer at the too-young age of 57.
Carter was the subject of one of my earliest posts at Dodger Thoughts: January 7, 2003.
I'll get back to the 2003 Dodgers soon, but I am cutting in to comment on the two players elected to the Hall of Fame today – both ex-Dodgers – Eddie Murray and Gary Carter.

Both are completely deserving, although Carter had to wait until his fifth year of eligibility. Carter is at a level just below Mike Piazza as a hitter, and since Piazza will retire as the greatest hitting catcher of all time, that's saying something. And Carter was much better defensively. Murray played at a high level of excellence for close to 20 years. The Dodgers acquired Murray toward the end of his career, not too differently from their newest first baseman, Fred McGriff. McGriff is a Hall of Fame candidate but is a level below Murray.

I covered about two dozen major league baseball games as a reporter, and only three at Dodger Stadium. But one of my most memorable experiences involved Murray and Carter. To put it in context, Murray retired with a terrible reputation with the media; Carter retired on quite different terms.

I had patiently waited 30 minutes in the Dodger locker room before a game to interview Carter and had just begun to interview him when Murray directed me to leave the locker room. There is a rule that reporters have to leave the locker room x minutes before the game starts. I had never seen this rule enforced until Murray tried to. Carter, realizing how long I had waited and knowing I wasn't asking a lot, let me finish the interview.

The rule is there for a reason, and I don't begrudge its existence. I will easily give Murray the benefit of the doubt that he was probably doing what he thought was right for the team. At the same time, I was doing my job in a professional manner and it would have been nice if he had tried to work something out with me instead of trying to kick me out, no questions asked.

I am confident that no doubt some unfair and/or inappropriate things were written about Murray during his career. However, I also tend to believe that he was similarly flawed in his dealings with reporters, and that whatever was written about him in Baltimore or anywhere else, he deserves some responsibility for his reputation as a curmudgeon with the media.

The postscript to this is that today Ken Daley, the Dodgers' main beat reporter for the Daily News, wrote an article very critical of Carter, based on incidents that occurred the same year:

Daley implies that he didn't vote for Carter for the Hall of Fame for these reasons. I think the moral of the story is that unless you have a situation like Pete Rose or Joe Jackson, it's best to judge HoF candidates on their on-the-field merits as much as possible.
All my best wishes to Carter's friends and family.