What is it you want, Mary? What do you want? You want the moon? Just say the word and I'll throw a lasso around it and pull it down. Hey. That's a pretty good idea. I'll give you the moon, Mary. … Then you can swallow it, and it'll all dissolve, see… and the moonbeams would shoot out of your fingers and your toes and the ends of your hair …
Because of Bryce Harper and Stephen Strasburg, the baseball world focused its attention on Dodger Stadium on Saturday.
Because of what happened over the next three and a half hours, the baseball world can't stop buzzing.
And because of Matt Kemp … wow.
Kemp's walkoff home run in the bottom of the 10th inning, his team-record 11th of April, gave the Dodgers a 4-3 victory in a game that for six innings was a taut pitcher's duel, and for the remaining four played like a cat all tangled up in a ball of yarn … until Kemp smothered it all up and threw it in the air like skyrockets.
There's so much more we could talk about, but I think I'm just gonna go with this: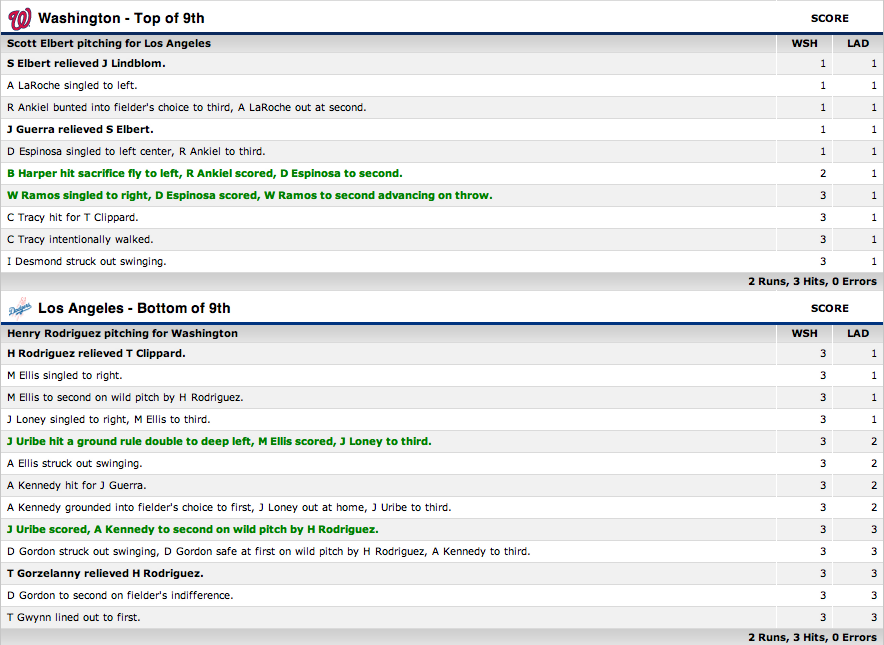 Uribe's double would have been the most stunning thing in the inning if not for the three wild pitches from the Nationals' own version of Lucile II, Henry Rodriguez. The second one came with Washington one strike away from winning.
In the 10th, after Jamey Wright continued his unreal run of strikeouts (he now has 10 in nine innings this season), Kemp came up and did … well, kinda did what everyone expected him to do, once an intentional walk wasn't offered. He drivered a ball that would have made Bubba Watson envious, sending it over the wall to dead center and the crowd into delirium. Dodger Stadium, buoyed by a bobblehead-Harper-Strasburg crowd, was rocking.
Strasburg and Chad Billingsley, who each pitched six shutout innings before allowing single runs in the seventh, deserve credit for setting up the night's unbelievable third act – as does Jerry Hairston Jr. for his daredevil exploits in the field and racing into home to survive a laser Harper throw. (Hairston later left the game with a left wrist contusion.) A number of people on Twitter were saying this was the best baseball game of the 2012 season to date, and while there's no doubt some hype to that, for the Dodgers and their fans, it's the kind of hype you like to be a part of. What a nice change.
Remember, George: no team is a failure that has Matt Kemp.