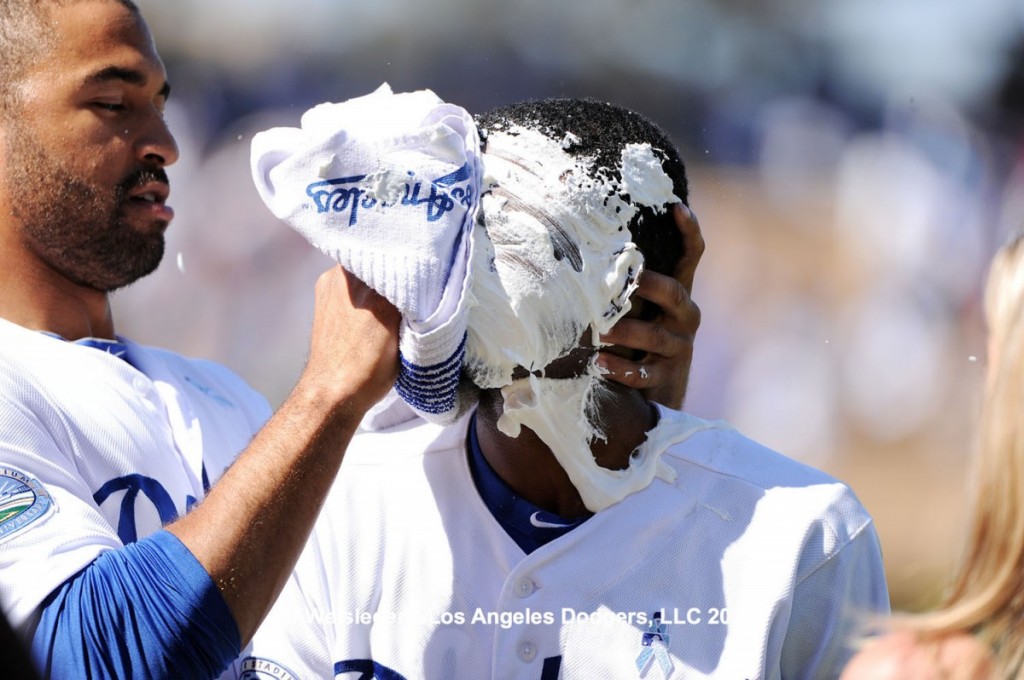 I'm sure I wasn't alone in wondering whether Matt Kemp would come charging out of the dugout Sunday the moment Dee Gordon delivered his game-winning hit, nor the only one petrified that he would reinjure his hamstring while wrestling Gordon to the ground. Indeed, Vin Scully seemed to share some of those fears.
Well, Kemp walked away unscathed (which is more than the shaving-creamed Gordon could say).  Given that, it seems like a good time to update his injury status. Here's Alex Angert of MLB.com:
Manager Don Mattingly said Matt Kemp and Mark Ellis will travel with the Dodgers on the road this week, while Matt Guerrier, Ted Lilly, Justin Sellers and Javy Guerra will stay back with a trainer.

"They are doing a ton of baseball work," Mattingly said about Kemp (strained left hamstring) and Ellis (left leg injury). "They are on the field taking batting practice now and they are able to do a lot more stuff on the field."

He added Kemp seems to keep progressing and Ellis is doing really well. As for the players not traveling to Oakland, he said Sellers' recovery from a bulging disc in his back is taking some time and Lilly (left shoulder inflammation) has been a process. However, Guerra (right knee inflammation) is doing well and Mattingly reaffirmed that he will travel to San Francisco next week. …
No word of when Kemp might start a minor-league rehabilitation assignment, so July would seem to remain the target.
Kemp, who is already eligible to come off the disabled list, has played 10 innings since May 13. The Dodgers are 23-12 (.657) when he starts and 19-13 (.593) when he doesn't in 2012.