Ken Levine and Josh Suchon are both treating us with books. The Me Generation… By Me (Growing Up in the '60s), by Levine, is already out, and should be of interest to anyone who has a connection to Southern California and/or likes to be amused. It's more of the great work that Levine, who has a long list of comedy writing and directing credits including "Cheers," offers on a regular basis at his blog, By Ken Levine.
* * *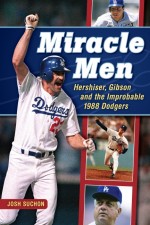 If that's a natural fit for readers of this site, Suchon's book needs even less explanation. Miracle Men: Gibson, Hershiser and the Improbable 1988 Dodgers will publish next spring, in connection with the 25th or first anniversary of the Dodgers' last World Series title. Suchon, who wrote a much talked-about first-person piece about his encounter as a teenager with Orel Hershiser following the '88 Series, plans to interview everyone remotely connected with that memorable year.

Congrats to both Levine and Suchon, and happy reading.

Apparently, if you were a DodgerTalk radio host in 2010, you have to be an author in 2012.