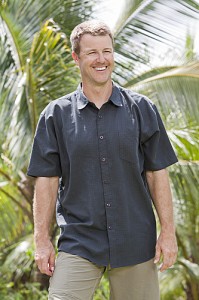 Kent's a 'Survivor'
As had been previously rumored, former Dodger Jeff Kent has officially joined the cast of the upcoming season of CBS' "Survivor" — along with former "The Facts of Life" star Lisa Whelchel.
Our pal A.J. Ellis has a first-person piece in place of a vacationing Buster Olney today for ESPN.com (behind the Insider wall), writing about what it was like to be on the Dodgers during the recent non-waiver trade deadline. An excerpt:
… On the morning of July 25, I woke up at our hotel in St. Louis and had a pair of new teammates; Hanley Ramirez, a three-time All-Star and former batting champ, and Randy Choate, a left-handed specialist who has dominated left-handed hitters for years, were now Dodgers. Here was our first move, and we get a middle-of-the order bat and added bullpen depth to strengthen our roster and, more importantly, let the rest of baseball know the Dodgers' ownership meant business. Anything was possible.

Immediately, text messages and phone calls flowed between teammates. Clayton Kershaw texted me with only the word "Hanley," followed by five exclamation points. Mark Ellis called me to break down what it meant and if we thought Hanley would stay at third or move back to his natural position of shortstop. The initial excitement of the trade and the fulfilled promise from our new ownership group sent energy throughout our team.

Even after we reloaded with Hanley and Choate, the rumor mill continued to swirl. The team returned home after a 7-3 road trip and took the field on July 30 with less than 24 hours to go before the trade deadline. That night, relief pitcher Josh Lindblom entered the game in the sixth and had a quick inning. He was scheduled to head back out for a second inning of work until the home dugout got a first-hand look at how the trade machine works.

Clubhouse manager Mitch Poole quickly paced across the dugout and tapped manager Don Mattingly on the shoulder, summoning him down to the tunnel below our dugout. Mattingly emerged and immediately went to pitching coach Rick Honeycutt, who hurried to the bullpen phone to have another pitcher warm-up. On the bench, we all knew this could mean only one thing: Josh had been traded. The game ended and we entered the clubhouse to learn about the trade, but it wasn't the one we were anticipating. The Dodgers had acquired Seattle Mariners reliever Brandon League for a couple of minor leaguers at the lower levels. But what about Josh — was his removal a false alarm or was his trade still imminent? …
Read the entire piece here.