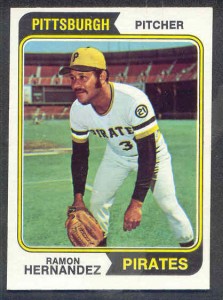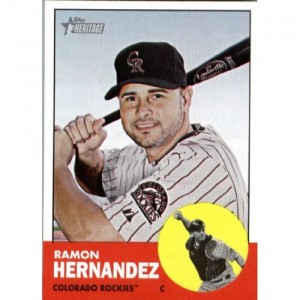 The Dodgers have traded Aaron Harang to the Colorado Rockies for, broadly speaking, the second coming of Rod Barajas – an old, slow catcher with perhaps some vestiges of power.
The acquisition of catcher Ramon Hernandez is much more like an NBA salary-cap maneuver than a traditional baseball trade, especially considering the Rockies immediately designated Harang for assignment. Eric Stephen of True Blue L.A. parses the details.
… Hernandez has a salary of $3.2 million this season, and was designated for assignment on Mar. 29. Harang is due $7 million this season, and has an option for 2014 that could vest with at least 180⅓ innings pitched in 2013, or a buyout of $2 million.
The Rockies designated Harang for assignment immediately upon making the trade.
Counting Sunday, Mar. 31, six days of the 183-day season have lapsed. That means the Dodgers are on the hook for $3,095,082 of Hernandez's salary, and the Rockies responsible for $6,770,492 for Harang, plus the $2 million buyout in 2014, though Jon Heyman of CBS Sports reported the Dodgers would send $4.25 million to Colorado.
So, instead of having $9 million guaranteed to Harang, the Dodgers will instead pay approximately $7,574,590 ($3,095,082 for Hernandez, $229,508 for Harang, and $4.25 million to Colorado). Subtract the major league salary that would have been paid to Tim Federowicz and the Dodgers save approximately $2 million and upgraded their catching depth. …
Major League Baseball's first Ramon Hernandez had a 3.03 ERA in 403 1/3 innings from 1967-77 (including 2.36 from 1971-75), peaking with a 1.67 ERA in 70 innings for the 1972 National League East champion Pirates.
This Ramon Hernandez has 166 home runs and a .744 OPS in 14 seasons, dipping sharply in 2012 when he had a .601 OPS in 196 plate appearances for Colorado (though he did go 3 for 4 against the Dodgers in a game last May). He turns 37 next month. Lucille IV, anyone?
Federowicz will probably remain on the Dodger roster until the team activates Chad Billingsley for his Wednesday start. It's a sad but not altogether surprising turn for Federowicz, who essentially is enduring what current Dodger starter A.J. Ellis did in previous years – watching a veteran take the backup spot. The upside is that Federowicz, still only 25 and unlike Fernandez, the first of his name in the majors, can play regularly for Albuquerque.
I didn't have the highest hopes for what the Dodgers would get for Harang, but I did dream that he might bring an actual bat off the bench instead of more filler. In a sense, that's what Harang himself had become, despite the $12 million, two-year deal he signed in December 2011.
Harang leaves with two great Dodger Stadium memories – throwing six no-hit innings on July 9, 2011 and setting a team record with nine consecutive strikeouts 51 weeks ago today, on April 13, 2012.
Pirates at Dodgers, 6:10 p.m.
Kershaw CLI: Kershawrgo
Carl Crawford, LF
Mark Ellis, 2B
Matt Kemp, CF
Adrian Gonzalez, 1B
Andre Ethier, RF
Luis Cruz, 3B
A.J. Ellis, C
Justin Sellers, SS
Clayton Kershaw, P