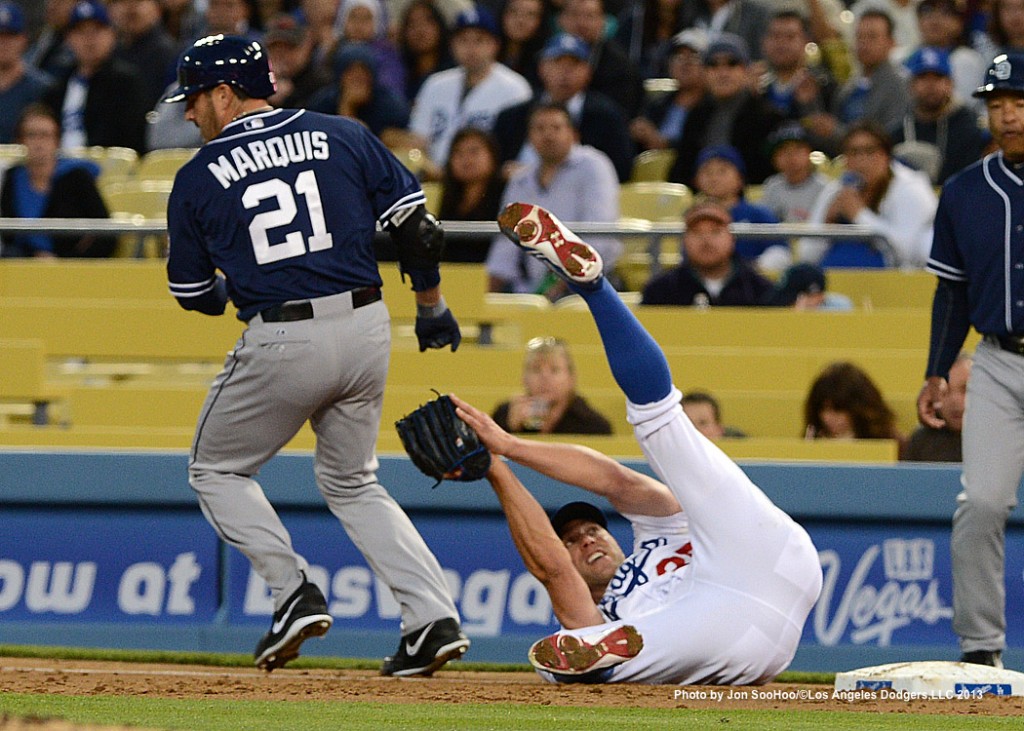 In the throes of watching people on Twitter react to Tuesday's 9-2 pounding by the Padres — the Dodgers' third loss in a row and worst since August 27 — I mused on what it would be like if those in favor of swift roster moves actually got to run the franchise for a year.
You have to admit, it would be interesting.  Matt Kemp struggles in his first 14 games— and gets demoted to Triple-A. The fascinating, hot-hitting Yasiel Puig is called up, apprenticeship be damned — and becomes the starting third baseman, despite the fact that he'd make Pedro Guerrero look like Graig Nettles. And so on … one reactionary move after another. I really would be curious to see it.
During my full-time days with Dodger Thoughts, this would naturally be the time for me to point out that it's too soon to despair. Despite all that has gone wrong — and I think it's fair to say that much more has gone wrong than gone right, since the "gone right" is pretty much limited to Carl Crawford, Adrian Gonzalez and Clayton Kershaw — the Dodgers remain at .500. San Francisco, in case you haven't noticed, has its own share of problems, with a starting rotation that is not only thin in depth but struggling to a 4.78 ERA. Arizona and Colorado have their own issues.
Meanwhile, Los Angeles will have Hanley Ramirez's bat in the lineup sooner than later, a midseason injection of Zack Greinke to look forward to and, yes, the possible promotions of players like Puig and Dee Gordon after they've had some more valuable seasoning.
At the same time, there's no doubt that we knew this was a problematic Dodger team before the season began, that the left side of the infield would be a problem, that Kemp might not be the hitter he was after labrum surgery and so on. If you didn't know it, you were simply uninformed or deluded, but frankly, I'm almost sure that most were aware. My argument has been that, despite the "World Series or bust" proclamations of Magic Johnson, the new ownership is on a long-term project to make the Dodgers contenders, in which domestic and international scouting and player development becomes every bit as important as the nine-figure contracts being handed out. So though I'm impatient for a title, I wasn't that preoccupied about what happened in the short term.
You can be forgiven for thinking this should be the Dodgers' year, with all the spending, not to mention it being the 25th anniversary of the franchise's last World Series glory. But in reality, the best you could count on is that the Dodgers should be competitive. The fact that Los Angeles could not find players over the winter to displace Cruz from the starting lineup or Juan Uribe from the bench — and I'm not here to bury Uribe, who remains tied for team lead in homers, but to thank him (for the time being) — tells you everything you need to know about any guarantees.
Kemp himself has almost become the embodiment of Dodger hopes and fears. The 14-game milestone in 2013 is particularly interesting for the star outfielder:
— It was after 14 games in 2010 that he had five home runs, a .385 on-base percentage and .740 slugging percentage. Of course, the rest of the year didn't exactly play out in the same fashion.
— And then the following year, he got off to a sizzling start in his first 14 games (two homers, .534 OBP, .673 slugging — and kept it going to essentially become the National League MVP.
— And then the following year, he was even hotter after 14 games — eight home runs, .525 OBP, 1.000 slugging.  But then it went downhill again, thanks in no small part to his health.
From his way-up and way-down rookie season (six homers, .408 OBP, .795 slugging after 14 games; one homer, .239 OBP, .309 slugging the remainder of the year), Kemp has never been a flatline hitter. He always keeps us guessing.
At the same time, I'm as concerned as anyone that surgery has robbed him of his exceptional greatness. Not once since I heard the words "torn labrum" next to Kemp have I not thought of Shawn Green's decline after a similar experience (though to be clear, not identical).
The most frightening, melodramatic and almost downright irresponsible comparison you can make is this: Kemp's OPS after 14 games this season is .483. For Andruw Jones after 14 games in 2009, it was .493. Of course, Jones was about to turn 32 and noticeably out of shape. Kemp is 28 1/2 and still John Henry in a baseball uniform.
I'm not going to sit here and tell you everything's going to be fine for the Dodgers in 2013, not with players ailing and holes remaining. I still nurse the long-ago expressed notion that the Dodgers could become the Cubs of the 21st century — a hundred years without a title. I'm also not going to sit here and tell you everything's going to be a disaster.
What I will say, as tired and frustrated as Dodger fans are, is that 2013 is not a "World Series or bust" year. It could be 2013. It could be 2014. It could be soon after or much, much later. But it's not now or never. It's whenever it's going to be.