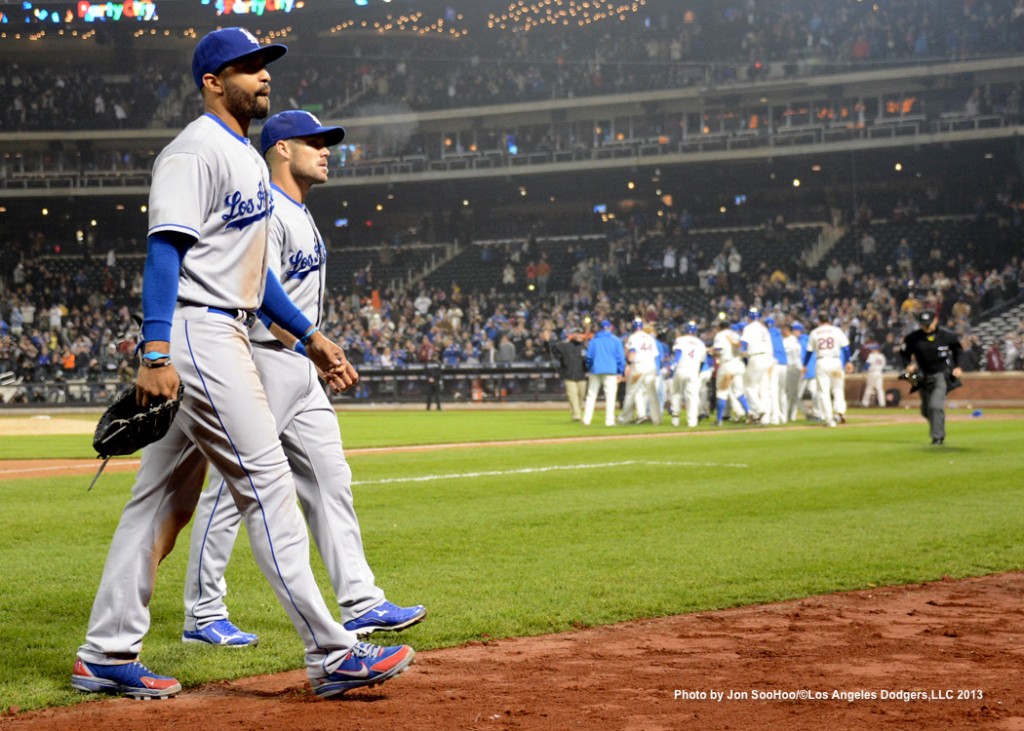 Well, I called it, didn't I? Joy and sadness, though admittedly, there was more joy from the starting-pitching matchup than you might have expected, when Ted Lilly was pitching one-run ball in his first start in nearly a year and Matt Kemp was hitting his first homer of the season against Mets phenom Matt Harvey.
A foreboding moment began when J.P. Howell walked his first two batters after Kemp had given the Dodgers a 3-1 lead in the sixth inning, but the real crisis came when Carl Crawford couldn't prevent a leadoff double by Mike Baxter in the bottom of the ninth against Brandon League – the ball went off the heel of Crawford's glove as he was sliding. Los Angeles got a measure of yang to this yin with Jerry Hairston's great catch of a foul pop-up by Daniel Murphy with one out and a runner on third, but it all went south from there, capped by Jordany Valdespin's grand slam in the 10th for a 7-3 Mets victory.
More bad tidings came overnight with the news that Shawn Tolleson will have back surgery later today to repair a herniated disc in his low back, putting him out of action for three to five months.
Carl Crawford, LF
Nick Punto, 2B
Adrian Gonzalez, 1B
Matt Kemp, CF
Andre Ethier, RF
Juan Uribe, 3B
Ramon Hernandez, C
Justin Sellers, SS
Hyun-Jin Ryu, P