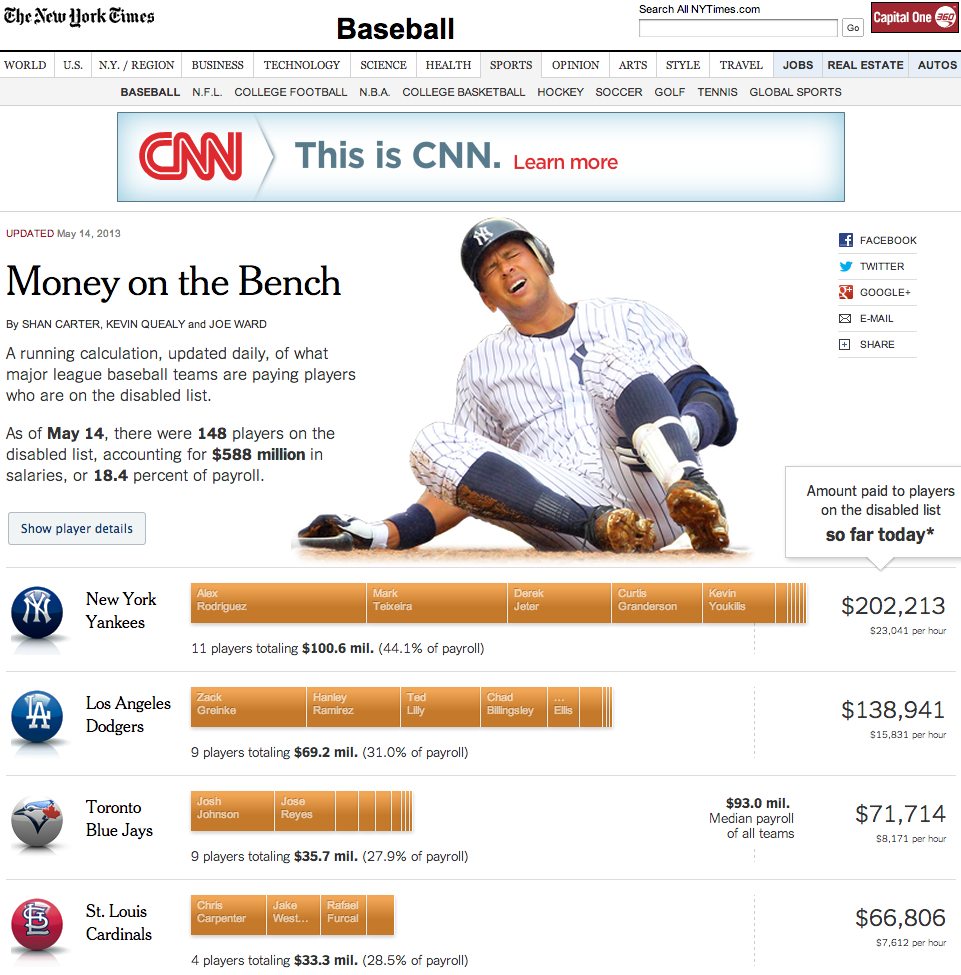 The New York Times has a fancy live graphic showing how much money the Dodgers are bleeding on the disabled list, through which you'll find that only one team has more players on the DL: the New York Yankees.
So why are the Yankees (24-14) in first place in their division while the Dodgers (15-22) are in last?
You can find stats that differentiate the two teams, though you might be surprised how similar they are in some respects.
The Dodger offense has an adjusted OPS of 99, according to Baseball-Reference.com, while the Yankees' is 98.
Los Angeles ranks 29th in OPS with runners in scoring position, but New York only ranks 27th. The Dodgers actually have a higher batting average in those situations.
The Dodgers have 20 quality starts in 37 games; the Yankees 22 in 38.
Opponents have a .711 OPS against Dodger starting pitching, better than the .724 allowed by the Yankees.
All that being said, you can also find spots where the Yankees have outshone the Dodgers, such as relief pitching. In general, the Yankees are sixth in the majors in ERA, while the Dodgers are 20th.
But I'm not sure you can actually explain why there is such a gap between the two teams, or be sure that it would continue.
• 2013 Dodger runs scored vs. runs allowed: -0.92
• 2013 Yankee runs scored vs. runs allowed: +0.66
You glance at the Dodgers, and they just awful. Awful. Since sweeping Pittsburgh in the first week of the season, Los Angeles is 3-13 against teams that currently have winning records.
Could it possibly be Joe Girardi, pushing all the right levers in such a way that the Yankees win despite their uneven statistical profile underneath the runs? Could it be that the Yankees have just been luckier? Is the best theory that of Michael Schur, passed along by Joe Posnanski: that the Yankees are "a magical species, not unlike house elves?"
Is the entire season going to resemble the first quarter? The answer to that, I believe, is no.
* * *
Nationals at Dodgers, 7:10 p.m.
Kershaw CLVIII: Kershawo, Pioneers