Here are the NL standings since June 22: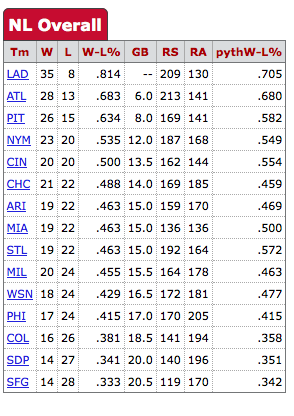 Update: From the Dodger press notes:
THE MORNING AFTER: The Dodgers rallied for four runs in the bottom of the ninth inning last night for their fifth walk-off victory of the year as they overcame a six-run, seventh-inning deficit to beat the Rays, 7-6. According to the Elias Sports Bureau, the six-run comeback tied for the largest comeback win in Los Angeles Dodger history for the ninth time (last: April 19, 2005 at Milwaukee). Elias also notes that it was only the fourth time that the LA Dodgers pulled out a victory when entering the club's at-bat in the seventh inning trailing by six runs:
July 22, 1970: W, 12-10 vs. Montreal (trailed 10-4 entering B7th)
May 9, 1994: W, 9-8 vs. Houston (trailed 8-2 entering 8th)
Aug. 11, 1999: W, 9-7 at Montreal (trailed 6-0 entering 7th)
Aug. 9, 2013: W, 7-6 vs. Tampa Bay (trailed 6-0 entering 7th)
       Last night was the club's 11th consecutive win in a one-run game, which is a Dodger franchise record. Los Angeles has gone 18-11 in one-run decisions this year and was last defeated in a one-run game on June 10 against Arizona.
       The victory last night was the Dodgers' third this season (3-41) when trailing entering the ninth inning, also accomplished July 24 at Toronto (3-2 entering 9th, won 8-3 in 10 innings) and July 10 at Arizona (5-4 entering the 9th, won 7-5 in 14 innings). The last time the Dodgers entered the ninth inning trailing by three or more runs and emerged victorious in a nine-inning game was July 20, 2008 at Arizona, when the club rallied for five runs in the top of the ninth in a 6-5 win.