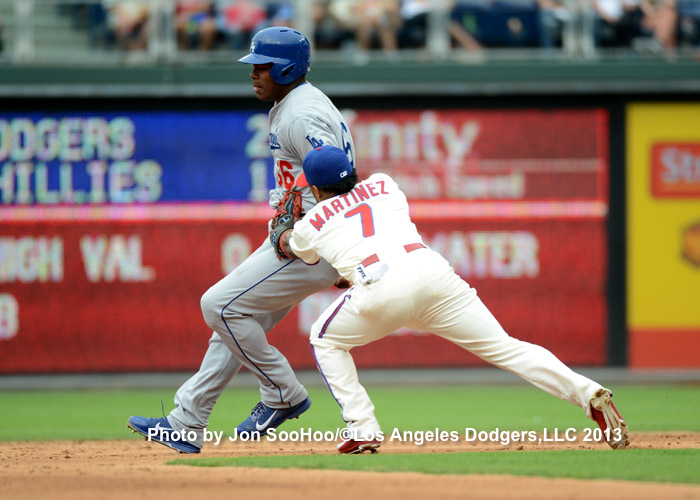 This notion that the Dodgers need to Watch out! because Yasiel Puig's mental blunders could cost them a playoff game is the latest in a series of stories about the rookie phenom that mean well but miss the point.
If Los Angeles is lucky enough to be in position to watch Puig make a costly mistake in a playoff game, whom do you think everyone in the city will need to line up and thank?
The Dodgers don't need to watch out for Puig's mistakes any more than they need to watch out for Mark Ellis' inconsistent bat, Carl Crawford's throwing arm, Don Mattingly's bullpen choices or any of the numerous weaknesses that every member of the team has.
Admittedly, it's hard to find them in Clayton Kershaw, but even him.
Yasiel Puig makes mistakes in the field. His mistakes can be interpreted as character flaws, which can be infuriating.
Just because he makes a certain type of mistake doesn't mean he is singularly capable of hurting the Dodgers in a way no other player is.
With every player, you evaluate the pros and cons in a total package, and then you put out the best possible lineup on a given day. Evaluating Puig's weaknesses in a vacuum, independent of the immensely promising strengths, is a pointless exercise.
The tricky thing with Puig, one can concede, is that it's not like he only makes mistakes against lefthanders or in day games. So you can't hide them the way you might, say, hide Andre Ethier's production against lefties (Sunday's homer notwithstanding).
Until there are three other outfielders whose net production is better than Puig's, you play Puig. And right now, no such outfielder on the Dodgers exists, unless Matt Kemp returns from the disabled list in his 2011 form. Let alone three of them.
Kemp, of course, illustrates the folly of getting caught up in a player's mental mistakes. Before he became a Most Valuable Player candidate, people became obsessed with his baserunning errors, to the point of calling for him to be traded, when his talent was obvious and all that was needed was more patience for him to get the message.
It wasn't the benching of Kemp that solved his issues. It was, all parties subsequently disclosed, a lengthy and frank conversation between Kemp and Ned Colletti that got everyone on the same page. Kemp reached a level of maturity that Puig will probably get to at some point, through patience and tutelage and conversation and several other tools. In other words, it might not arrive by by 4:05 p.m. today.
It will come when it comes. It will come as fast as the Dodgers can make it come. It will come soon enough.
This is not to say Puig shouldn't get an occasional day off, like every other Dodger has gotten since Steve Garvey played first base. But a punitive benching isn't likely to do much other than make the people watching the games feel superior.
Mistakes like throwing to the wrong base are easy pickins' for mortals like fans and sportswriters, because it's the kind of thing we mortals could actually get right. If I know to hit the cutoff man, Puig must be a human disaster area if he doesn't, right?
At the end of the day, wouldn't you rather have a ballplayer whose biggest problem is he throws or runs to the wrong base, rather than one whose biggest problem is he can't hit or run at all? Puig is already learning patience at the plate faster than anyone way, way back in June dreamed he would. If Puig's biggest remaining problem is learning to hit the cutoff man, that's not something to denigrate, that's something to celebrate.
And we're not even discussing the the fact that the same approach that sometimes leads Puig astray might also lead him to triumph, many times over.
It's entirely possible that a Puig mistake will cost the Dodgers a game. That makes him like nobody else — except everyone else that wears a Dodger uniform.