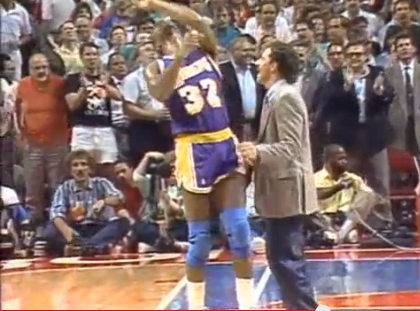 As we hope for 1981 and 1988-style heroics from the Dodgers, I'm not blind to the possibility that this season could end like that another team from that era, the 1988-89 Lakers.
That season, the Lakers cruised through the early rounds of the playoffs – going 11-0 in fact – before both Byron Scott and Magic Johnson pulled up lame before Game 1 and during Game 2 of the NBA Finals. You can see Johnson's injury about 5:40 into the clip below.
There was no Kirk Gibson here – the Lakers ended up getting swept in four games.
The difference is that the Lakers had recently given fans a steady stream of NBA titles, including the previous two seasons, while Dodger fans are starving.
No Matt Kemp. Maybe Andre Ethier and Hanley Ramirez – who has a hairline fracture in his rib – can do something. Maybe. But otherwise, it's time for the rest of the gang to step up and complete the greatest Dodger story of the past 25 years.