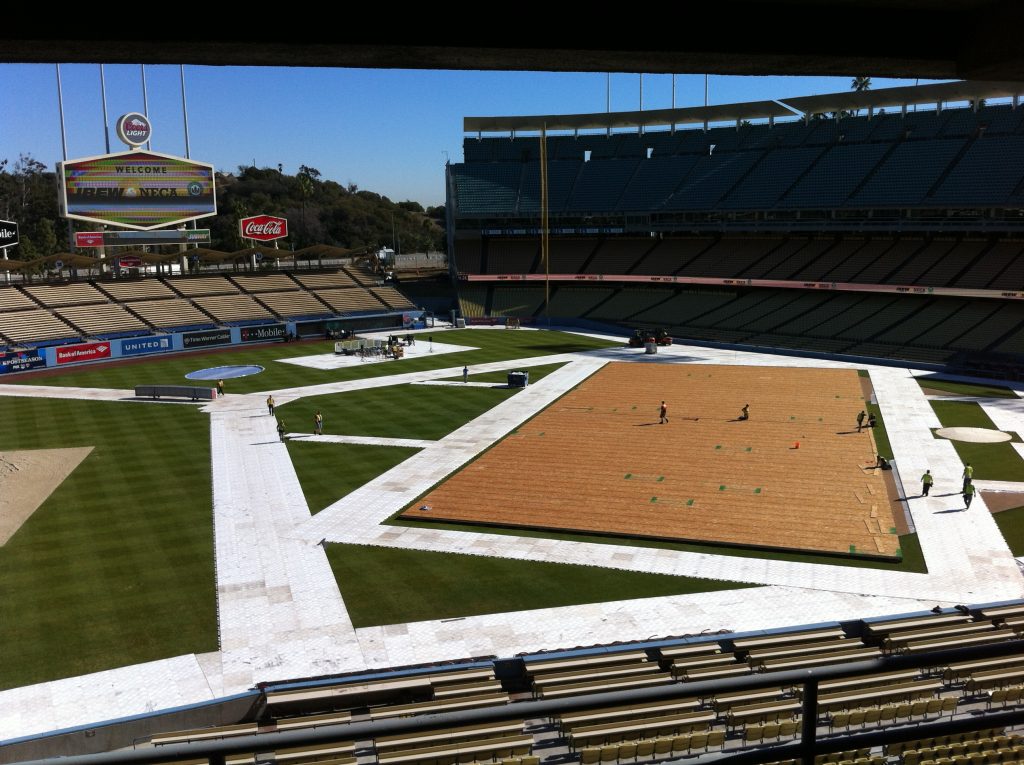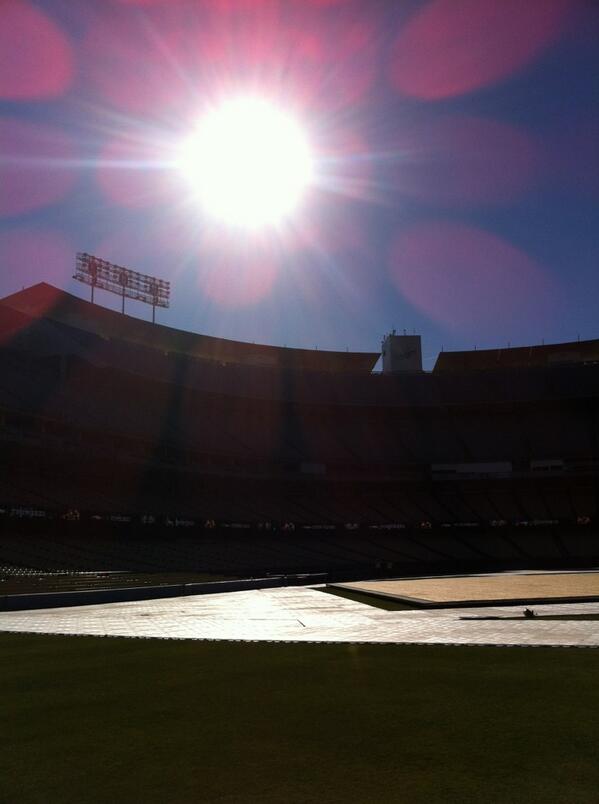 By Jon Weisman
So it's pushing 80 degrees in downtown Los Angeles today and even warmer than that on the field at Dodger Stadium.  I took a photo from the outfield that reminded me of the "Midnight Sun" episode of "The Twilight Zone."
But the NHL Stadium Series game between the Los Angeles Kings and Anaheim Ducks on January 25 will be plenty cool, literally and figuratively.
It doesn't even matter that the outdoor temperature will dip as the 6:30 p.m. gametime approaches. Doesn't matter if you'll be in T-shirt and shorts for the day or bundling up for the night. That rink crossing from third base to first on the Chavez Ravine infield will be 22 degrees, period, according to NHL Senior Director of Facilities Operations Dan Craig. (And no, there won't be a hump in the middle where the pitcher's mound is.)
"It's a hard concept for anybody not in the field to understand," Craig said today at the event's media gathering, citing the proven refrigeration technology of the imported floor and the 53-foot mobile refrigeration unit, which arrived today from Ann Arbor, Michigan. "We have two very efficient systems that were married together."
In short, you're going to see first-rate hockey conditions, featuring — as a bonus — two first-rate teams. The red-hot Ducks have the best record in the NHL, while the Kings sit in third place in the Pacific Division and eighth in the league overall.
It's an event unprecedented in Southern California, not to mention impossible to foresee when someone like Wayne Gretzky dominated the local hockey scene.
"Twenty-five years ago, I don't think we envisioned two teams in Los Angeles, (let alone) playing an outdoor game at Dodger Stadium," Gretzky said.
For the Dodgers' part, they're happy to provide the backdrop for the game and let the NHL worry about cooling that rink. When Kings President of Business Operations Luc Robataille called Dodgers President and CEO Stan Kasten in the spring, Kasten said it was a no-brainer.
"We've always wanted to expand the use of Dodger Stadium," said Kasten, who was friends with Ducks coach Bruce Boudreau when both were plying their trades in Washington, D.C.  "The NHL is so good at this. They know exactly what to do and how to lay it out."
Joked Robataille: "We're trying to get (Dodger General Manager Ned Colletti) on the ice, but he found an excuse to make sure he couldn't skate next week."