[mlbvideo id="31308009″ width="550″ height="338″ /]
By Jon Weisman
We'll be covering the highlights from the Dodgers' press conference today with Stan Kasten and Ned Colletti at 10 a.m. Refresh for updates. If you'd like to watch the presser on a separate browser window, click here.
10:00 a.m.: The Dodgers sent out the press release officially announcing that Clayton Kershaw had been signed to a seven-year contract. Here's Kershaw's quote for the release …
"It is an incredible privilege to be part of the Los Angeles Dodger organization for another seven years," said Kershaw. "L.A. has become a second home to me and my wife, and I'm excited for the opportunity to represent the city for a long time to come. I am particularly grateful to our team's ownership and front office for believing in me. With this contract comes tremendous responsibility, not only as a pitcher, but as a good steward of the resources given to me. To whom much is given, much is required. Ellen and I are excited to take an undeserved blessing and, Lord willing, make a difference in the lives of others. I'm humbled by this recognition and looking forward to a new season, and hopefully, a World Series championship for the city of Los Angeles."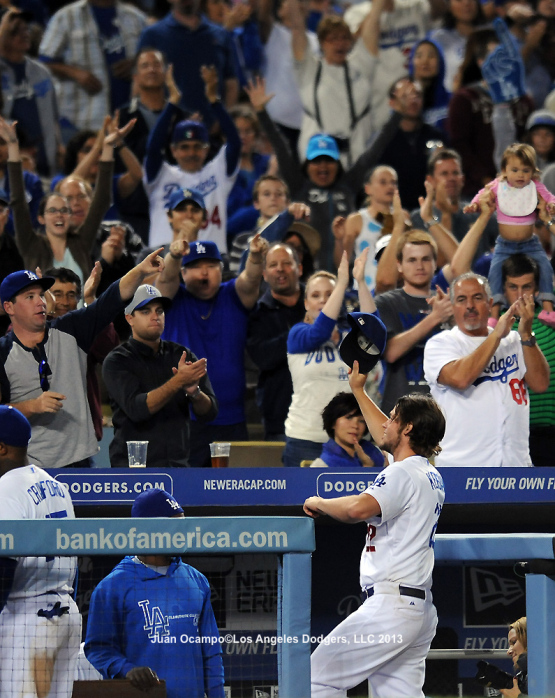 10:10 a.m.: The troops are gathered in the press room, and we're about to get started. By the way, Kershaw will be speaking to reporters via conference call at 11 a.m.
Colletti, smiling as much as you've ever seen him as he sat down: "We've all seen a lot of players and a lot of great pitchers in our careers. There are those that stand out above pretty much all the rest, including in my mind Clayton. Not only as somebody that's won a Cy Young, finished second, won another Cy Young, leads this staff, 25 years old, left-handed, ultra-competitive, something that we've watched grow as we've drafted him and developed him. That's what you can read on the back of the baseball card .. For me, it's also that he's got the heart that he's got. Ellen Kershaw and himself, with the perspective they bring to their lives and others, I think when you've got the complete set like that, it's somebody that not only represents your baseball team but represents your organization and your city at probably the highest level.
Kasten: "I don't usually sit in for contract press conferences or trade press conferences, but because of the size and significance of this deal, I was involved more than I typically am. From our standpoint in ownership, we felt Clayton is so special. He checks all the boxes, on the field, off the field, in the community, home-grown, age-wise. It really was the perfect storm, both for Clayton as well as for the Dodgers. There's been a lot of attention about this being the biggest contract for a pitcher in baseball, and that is the case. If someone should have this contract, it should be the best pitcher in baseball.
Kasten: "For us, in ownership, it was all that he does on the field, in the clubhouse, as well as all the things he does away from the field, away from Dodger Stadium, which as you know to us in ownership, is very, very important to us as well. Representing this organization today, continuing its legacy of 50 years here, Clayton is as good as it gets. "
Kasten on negotiations: "Long. We started in March. It was always pleasant and constructive and collegial. If it had not gotten done now and had taken until next year, I wouldn't have been surprised if we signed him then also, because the relationship has been great. I think both sides respect and appreciate each other; that's what made it comfortable. There are ups and downs like every negotiation, because it was dragging on for a long time. And so, in the middle of last summer, we were nearing something that might work, but then it was dragging on so long, and we both said to each other, 'Yeah, let's put this off until the offseason,' and I think both sides were comfortable with that. I think both sides thought we would get something done, but we were prepared in the event that we didn't to still keep talking. Fortunately, we didn't have to get to that, and we can now turn our attention to the next thing, whatever that may be."
Kasten: "As I reflect back on the first discussions that we had … it wasn't all that far away from where we wound up, but there were probably a thousand iterations from last March to now. … I will say this, if (agent Casey Close) and Ned and I had dedicated a week to being in the same room, but that was never there for us. Casey's in New York, we're here in the offseason, Clayton's in Texas, our owners are in other cities. We'd have a conversation, we'd get back to the other side a week or two later. Because there was never any urgency or a feeling of 'get this done  or else,' from either side.
Colletti: "And when the season gets going, you have even less opportunity to really do it … because you never want anything interfering with the thought process of Clayton.
Kasten: "We know all the precedents, we know all the risks. A big part of this for us (was) getting as much protection as possible from insurance, which we did. That was helpful, to both sides, to know that you could do that. A big, big factor for us that really was a positive for us was Clayton's age. We have that going for us. Clayton has that going for him. I'd feel differently doing this contract for a player in his mid-30s. … Doesn't make it foolproof. There are still risks, but every day in this business, we have risks that we have to evaluate. Nothing is risk free."
Colletti: "It's tough to have in our mind to have the best pitcher in baseball, the youngest best pitcher in baseball, and tell him we're not going to do what others have done for others."
Kasten: "I'm sure there is (a top end to our payroll), but we're comfortable where we are. For right now where we are in approaching our second full season (as owners), we're still first and foremost concerned with the quality of the team we can put together. Adding it up comes after that, and that's because this is a long-term strategy for us. I think after five years, six years, seven years, when you add it all up, it will make a lot more sense than it might to some people who look at today's snapshot."
Kasten: "(Luxury tax) is an expense that we're well aware of, and we understand to the decimal point what the costs are."
Kasten: "Nothing precludes anything else. Everything has to be evaluated independently. That's what I ask Ned and his people to do. When there's something that makes us better, we would do it, irrespective of what came before that. I know that's generic, but that's actually how we evaluate."
Colletti: "That's a great quote."
Kasten: "I've only got a couple of messages, and I'm just going to keep beating them into you."
Kasten: "The reason (Kershaw) is not here today … he's had an awfully busy offseason. He's made a couple of cross-country trips just this week, including earlier this week for a physical for all this. So we said, 'You can stay home today — we'll get everyone with you on the phone.' He's also had, and I hope this is something that continues for the rest of his career, a fairly short offseason. And so we let him stay home today.
Kasten: "For me, personally — I hate no-trade clauses, and I've never done one. I will tell you, I do hate them. Opt-outs are more reasonable to us, particularly with our circumstances here in L.A. and the resources that we have, the appeal that we have to guys. … I wouldn't just give it out willy-nilly, but there are times that it really has value during the course of a negotiation. That has been the case in the most recent negotiations.
Colletti: "I talked to Casey (about Masahiro Tanaka) probably not yesterday but every day this week and we'll talk to him again this week."
Kasten, on the deadline today for exchanging arbitration salary figures: "Not a hard deadline, but all deadlines have the advantage of concentrating the mind, to see what we can do. Today we would have had to put a number in, and does that change the dynamics? Hard to say. Wouldn't have been a brick wall, but it made it more complicated, so we said let's use that as a good benchmark to see if we could get it done by then. And both sides wanted it done, so this was a tool."
10:26 a.m.: Questions end.