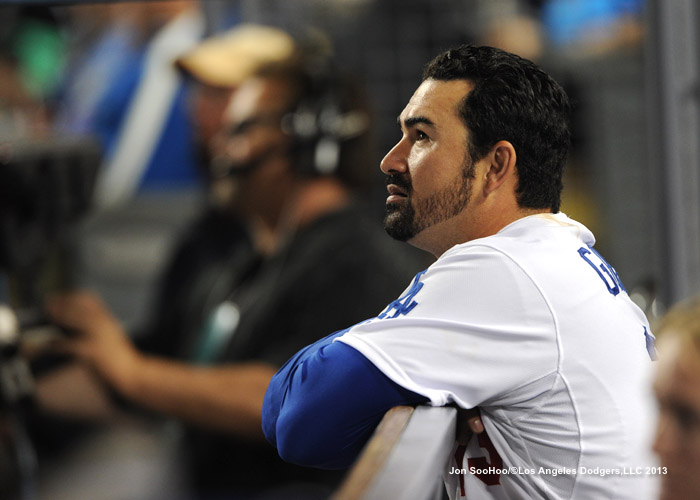 By Jon Weisman
Some would call the most important information known to man. Others, less enlightened, might call it trivia. Either way, in the 2013 regular season, it is a fact that Adrian Gonzalez had …
… a .985 OPS (.444 on-base percentage, .541 slugging percentage) batting cleanup in his first 17 games of the season — but despite reaching base 32 times, scored only three runs.
… a .940 OPS (.351/.589) when he swung at the first pitch of an at-bat, despite only two walks in 185 plate appearances. By comparison, Yasiel Puig had a .927 OPS in the 187 times he swung at the first pitch of an at-bat.
… 18 homers in 400 at-bats against right-handed pitching, compared with four in 183 at-bats against lefties – but delivered more doubles against lefties (17) than righties (15).
… an .835 OPS at Dodger Stadium in 315 plate appearances. In 2007, while with San Diego, Gonzalez went 2 for 38 in Los Angeles.
… the same OPS in August as he did in September: .772. And that includes wrapping up the regular season with a .945 OPS in his final 22 games.
… a line of  6 for 11 with two doubles as a designated hitter or pinch-hitter.
… runs in nine consecutive road games from July 10-August 2.
… 14 home runs in 285 plate appearances after pitchers got first-pitch strikes, compared with six home runs in 283 plate appearances after first-pitch balls.
… a 1.099 OPS in the seventh inning and a .461 OPS in the eighth inning.
… eight infield hits, four more than Zack Greinke.