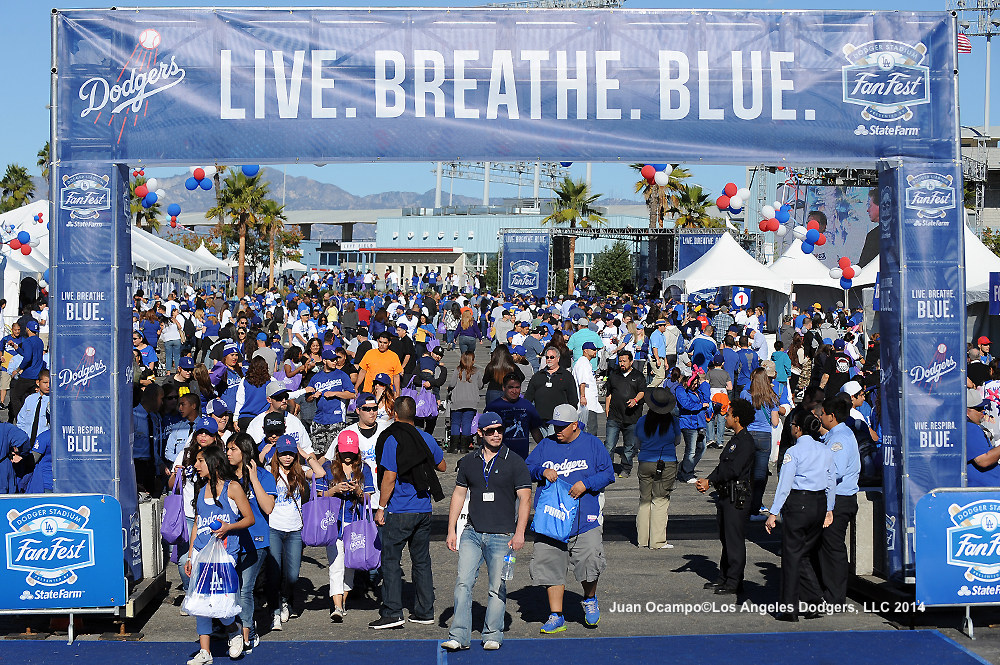 By Jon Weisman
Thanks to all the fans who came out today for FanFest.
Ned Colletti, Vin Scully and Don Mattingly are featured in Ken Gurnick's FanFest roundup for MLB.com. Here's perhaps the most memorable quote from Colletti, who as Gurnick writes, "credited the club's brawl with the Arizona Diamondbacks as a key to the team's midseason turnaround after beanings of Yasiel Puig and Zack Greinke."


"Our guys took the field and went after them," Colletti said. "As much as I don't condone that, it kind of galvanized our club and got us together and brought friendship in the room and we got closer. In a bizarre way, it was a defining moment for the building of inside the room."

Even as FanFest was taking place, there was also the second annual Community Day at the MLB Urban Youth Academy in Compton. Yasiel Puig was among those visiting, writes Earl Bloom for MLB.com.
Hyun-Jin Ryu getting into shape is the subject of two short pieces (here and here) by the Daily News' J.P. Hoornstra, who also passes along this update about Dodger Stadium wi-fi and about the Union Rescue Mission learning center being named for Andre and Maggie Ethier. Nicely done, Ethiers.
An update from Kershaw's Challenge: "After discussing our plans to renovate and add on to Destiny Community School in Lusaka, Zambia, we have solidified our plans and will begin construction soon."
The last batch of Dodger Pitching in the Community Caravan photos, from Friday's fifth day, can be found at the Dodger Photog Blog, thanks to Juan Ocampo.
Ex-Dodger pitcher Chris Capuano is a potential free agent bargain for some team, writes Jeff Sullivan at Fangraphs.
Sixteen-year NBA vet Tracy McGrady is looking to make a switch to pitching, at least on some level. D.J. Short at Hardball Talk rounds up the basic info.
More than half of the teams in the majors are planning to platoon or divide up playing time with at least one position, writes Anthony Castrovince of MLB.com.