[mlbvideo id="31375993″ width="550″ height="308″ /]
By Jon Weisman
The 24/7 Dodger network that is SportsNet LA will launch at 7 p.m. Tuesday with the premiere edition of "Access SportsNet: Dodgers," then provide a mix of news, interviews and history leading up to its first live game telecast Wednesday at 12 noon.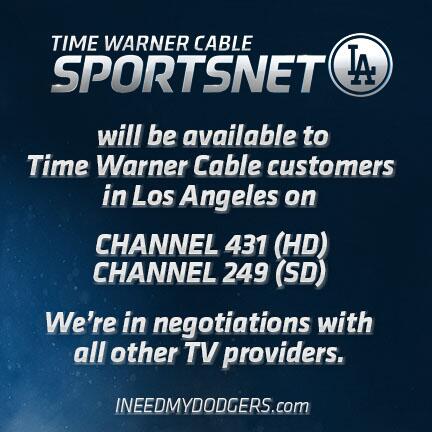 "Access SportNet: Dodgers," a nightly studio show, will have a special introduction Tuesday by Vin Scully and first-night guests including Earvin "Magic" Johnson, Tommy Lasorda, Don Mattingly and Adrian Gonzalez. It will then be followed at 8:30 p.m. by the first episode of "Backstage: Dodgers," the program that will regularly go behind the scenes to give you a full picture of the franchise.
At 9 p.m. will be back-to-back half-hour editions of "Connected With …," featuring extended one-on-one interviews with Clayton Kershaw and Don Mattingly, respectively. Then at 10 p.m. will be the premiere of "2013 Dodgers: A Whole New Blue," a review of last year's playoff-filled campaign that will include never-before seen footage.
Wednesday's Spring Training game, against Arizona at Talking Stick in Phoenix, will be the first of 22 broadcast live by SportsNet LA, presaging the network's regular-season presentation of more than 140 live broadcasts. From 4-7 p.m., SportsNetLA will climax its first 24 hours of business with the debut edition of "Timeless Dodgers," featuring the June 3 MLB debut of Yasiel Puig.
SportsNet LA will be available to Time Warner Cable customers in the Los Angeles area in high definition on channel 431 and standard definition on channel 249. In addition, it was announced today that Bright House Networks had signed on to carry SportsNet LA to its Bakersfield customers, on channel 1107 in HD and channels 21 and 107 in standard. Time Warner Cable is in negotiations with all other providers for carriage.
For more information about SportsNet LA or to demand the network, visit www.ineedmydodgers.com. Consult the FAQ at the site for more information. Follow the network on Twitter at @SportsNetLA, Facebook at www.Facebook.com/SportsNetLA and Instagram at @SportsNetLA.