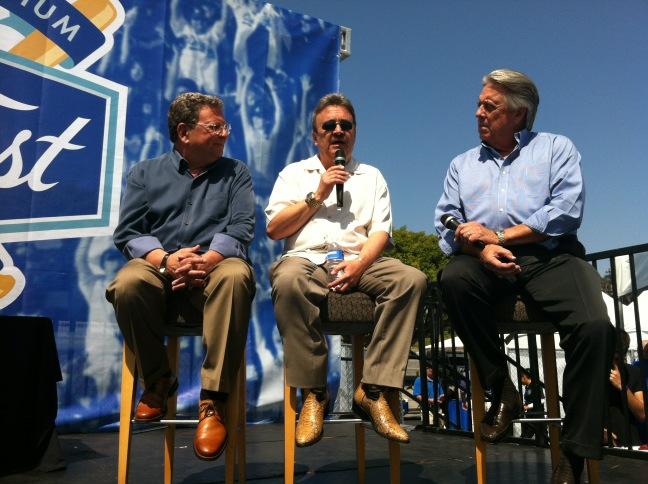 By Jon Weisman
KLAC 570 AM will broadcast 15 Spring Training games for the Dodgers this year, with KTNQ 1020 AM doing eight games in Spanish.
The KLAC broadcasts will begin with Wednesday's Spring Training opener and Thursday's Spring Training home opener and also cover February 28 – March 2, March 5-9 (split-squad game on March 8 against Texas), March 12, March 16 and the Freeway Series games March 27-29.
KTNQ will have games February 26, March 1-2, March 8-9 (split-squad game March 8 against Seattle), March 15-16 and March 28.
Charley Steiner and Rick Monday will trade off on play-by play duties, with Monday and Garciaparra alternating as analysts.
For the full Spring Training radio schedule, see below:
DATE

DAY

OPPONENT

1ST PITCH

ENG

SPA

PBP

ANALYST

2/26

WED

@ ARI

12:10 pm

KLAC

KTNQ

STEINER

MONDAY

2/27

THU

ARI

12:05 pm

KLAC

STEINER

MONDAY

2/28

FRI

CWS

12:05 pm

KLAC

MONDAY

GARCIAPARRA

3/1

SAT

@ MIL

12:05 pm

KLAC

KTNQ

MONDAY

GARCIAPARRA

3/2

SUN

SD

12:05 pm

KLAC

KTNQ

MONDAY

GARCIAPARRA

3/3

MON

@ OAK

12:05 pm

NONE

NONE

3/4

TUE

SEA

12:05 pm

NONE

NONE

3/5

WED

@ CIN

6:05 pm

KLAC

MONDAY

GARCIAPARRA

3/6

THU

@ LAA

12:05 pm

KLAC

MONDAY

GARCIAPARRA

3/7

FRI

TEX

12:05 pm

KLAC

MONDAY

NONE

3/8

SAT

@ TEX (SS)

12:05 pm

KLAC

STEINER

MONDAY

SEA (SS)

6:05 pm

KTNQ

NONE

NONE

3/9

SUN

SF

1:05 pm

KLAC

KTNQ

STEINER

MONDAY

3/10

MON

OAK

1:05 pm

NONE

NONE

3/11

TUE

@ KC

1:05 pm

NONE

NONE

3/12

WED

ARI

1:05 pm

KLAC

MONDAY

NONE

3/13

THU

CIN

1:05 pm

NONE

NONE

3/14

FRI

@ CHI

1:05 pm

NONE

NONE

3/15

SAT

SD (SS)

1:05 pm

NONE

NONE

@ CWS (SS)

7:05 pm

KTNQ

NONE

NONE

3/16

SUN

COL

1:05 pm

KLAC

KTNQ

STEINER

MONDAY

3/21

FRI

@ TEAM AUSTRALIA

1:00 am

NONE

NONE

3/27

THU

LAA

7:10 pm

KLAC

STEINER

MONDAY

3/28

FRI

LAA

7:10 pm

KLAC

KTNQ

STEINER

MONDAY

3/29

SAT

@ LAA

6:05 pm

KLAC

STEINER

MONDAY