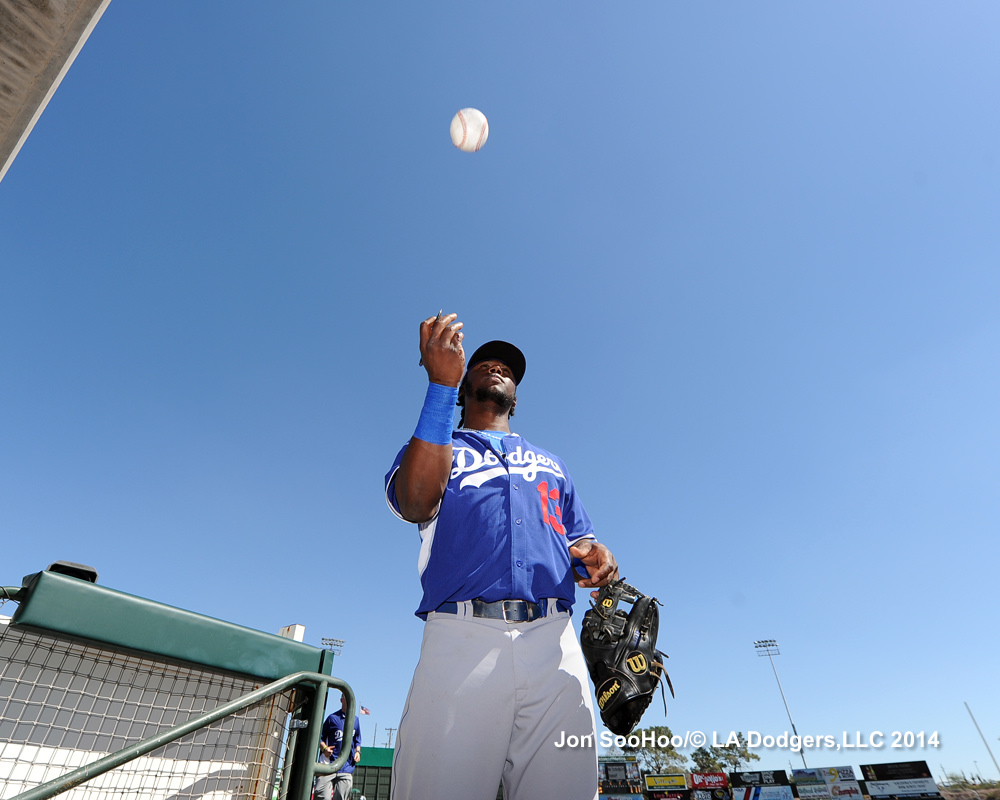 Mariners vs. Dodgers, 12:05 p.m.
Yasiel Puig, RF
Carl Crawford, LF
Hanley Ramirez, DH
Andre Ethier, CF
A.J. Ellis, C
Juan Uribe, 3B
Clint Robinson, 1B
Justin Turner, SS
Chone Figgins, 2B
(Brian Wilson, P)
By Jon Weisman
The first round of springtime reassignments took place this morning. Pedro Baez, Nick Buss, Stephen Fife, Yimi Garcia and Jarret Martin were optioned to minor-league camp, while Sam Demel, Griff Erickson, Daniel Moskos, Chris O'Brien and Chris Reed were reassigned to minor-league camp.
It all amounts to the same thing; the difference has to do with being on the 40-man roster vs. being a non-roster invitee.
As previously announced, today is a bullpen day while the Australia unbound Zack Greinke gets his calf back on track. Scheduled to follow Brian Wilson are Kenley Jansen, J.P. Howell, Chris Perez, Jamey Wright and Chris Withrow.
Carl Crawford returns to the defensive end of things today, in left field.
Item from the Dodger press notes: "Scott Van Slyke's father, Andy, will be in uniform for Seattle this afternoon as he enters his first season as the Mariners' first base coach."
And in other news this morning, Ted Lilly, who threw his last Major League pitch for the Dodgers on June 4, has been hired by the Cubs as a special assistant in the front office, writes Carrie Muskat of MLB.com.