[mlbvideo id="32077631″ width="550″ height="308″ /]
By Jon Weisman
We're obviously big fans of Juan Uribe in these parts — the clutch home runs of Uribe, the stylings of Uribe — in other words, the Uribe of Uribe.
But perhaps most of all, we marvel at the defense of Juan Uribe. So we had senior video producer and editor Erick Vazquez prepare the video above to showcase some defensive highlights from the one and only Uribear.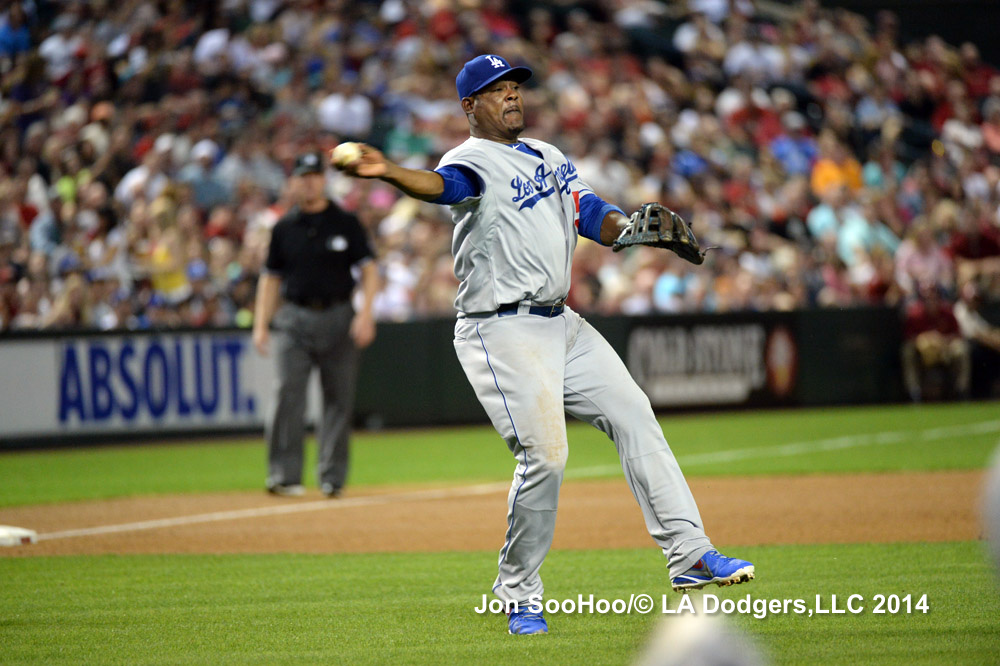 Since finally entrenching himself as the Dodgers' full-time third baseman a year ago, Uribe has dazzled with the glove. The talent has been there, born in nearly 8,000 career innings as a shortstop, but seeing him own third base day after day has really been something else.
A Gold Glove finalist a year ago, Uribe actually led all 2013 National League third basemen in defensive value, according to Fangraphs. In the young 2014 season, in which he has played every one of the Dodgers' 118 innings at third, he is back on top in the NL, trailing only Corey Seager's older brother Kyle among MLB hot corneristes.
[mlbvideo id="32000985″ width="400″ height="224″ /]
Not for nothing: Combined with his .906 OPS through 13 games, Uribe is by one measure the most valuable third baseman in the world so far this season, already achieving 0.7 Wins Above Replacement, and 11th most valuable position player in the game.
It's all part of what remains one of the more amazing rags-to-riches stories in Dodger history, the rise of a player from two years of near oblivion to an integral, arguably indispensable role on the team.
So sit back, watch the video and enjoy the glory of Juan Uribe.