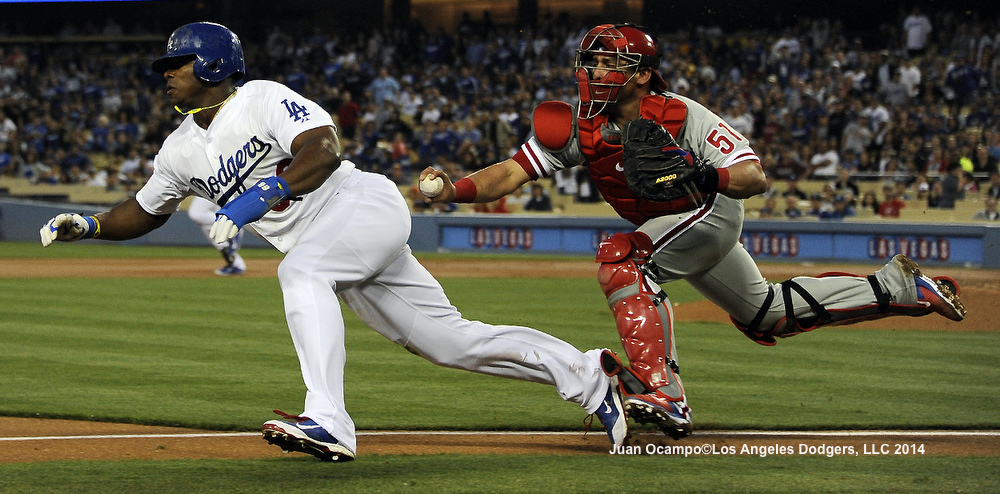 By Jon Weisman
You don't set out to lose a game, but it's hard for me not to take a game like Monday's 7-0 loss to Cliff Lee and the Phillies as a write-off. When Lee is so dominant that he can retire 20 guys in a row, my first thought is … hopefully, the Dodgers will have their answer soon in Clayton Kershaw.
How effective was Lee? There were five balls hit to the outfield all night: a single to center, a single to left and three flies into Tony Gwynn Jr.'s glove. No putouts were recorded in left field or right field, and in fact, neither John Mayberry Jr. nor Marlon Byrd so much as touched a live ball in right field all night.
Two Dodger batters reached the outfield after the second inning: Justin Turner sixth-inning fly to center and Tim Federowicz's eighth-inning single.
Still playing .600 ball this season, the Dodgers were able to reset most of their bullpen, with Kenley Jansen, J.P Howell, Brian Wilson, Chris Withrow and Chris Perez all getting a day off, thanks to Brandon League and Jose Dominguez eating up two innings.
League has retired 12 of the past 15 batters he has faced.
It's just not that easy to play this game, no matter how much you might think it is. If it were easy, Paul Maholm wouldn't walk the power-challenged Gwynn leading off the game, or lob a short throw way over Adrian Gonzalez's head for a run-scoring error in the fifth.
Carlos Ruiz will always be Carlos Ruiz, huh? With two doubles, a homer and a walk, the 35-year-old Phillies catcher raised his career OPS against Los Angeles to .880 (.423 OBP, .458 slugging). That doesn't include a .989 postseason OPS against the Dodgers (.472 OBP, .517 slugging).
Monday's late innings brought us the 2014 debuts of Justin Turner at third base and Scott Van Slyke in center field. Adrian Gonzalez is the last Dodger to play every inning at his position this year.
The loss was the first for the Dodgers by more than two runs since April 5, ending a streak of 12 games in a row in which they were winning or could have won with one swing of the bat in the ninth inning.