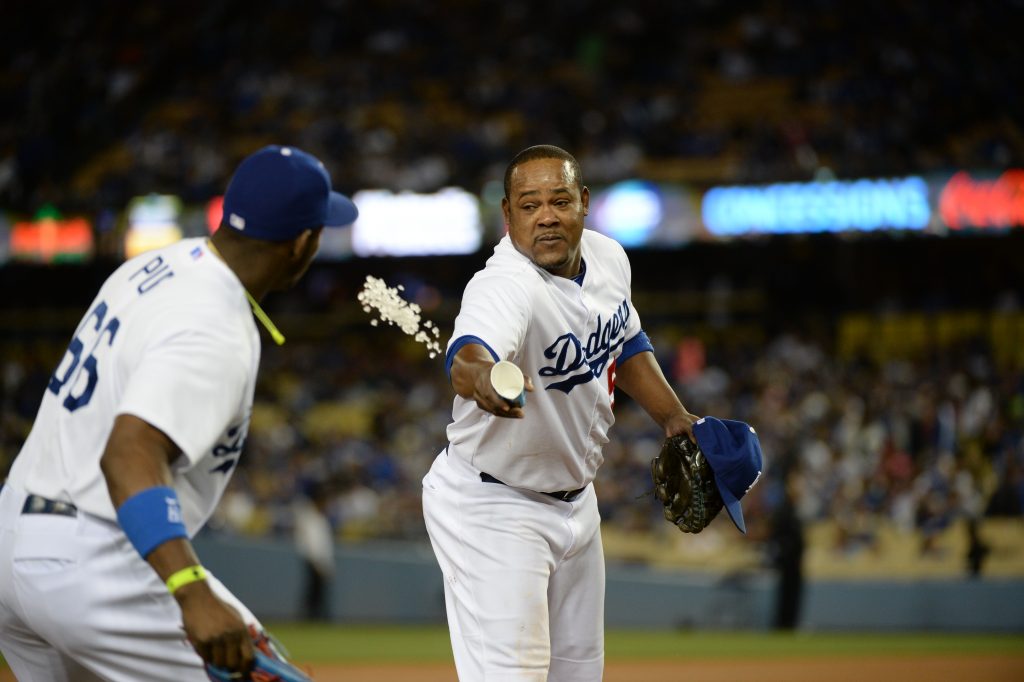 Whatever the weather, someone's getting wet. (Jon SooHoo/Los Angeles Dodgers)
Dodgers at Twins, 5:10 p.m.
Dee Gordon, 2B
Yasiel Puig, RF
Hanley Ramirez, SS
Adrian Gonzalez, 1B
Matt Kemp, CF
Andre Ethier, DH
Juan Uribe, 3B
Drew Butera, C
Carl Crawford, LF
(Zack Greinke, P)
By Jon Weisman
Two changes come to the active roster in time for today's game against Minnesota. Lefty reliever Paco Rodriguez and catcher Miguel Olivo have come up from Albuquerque, while infielder Carlos Triunfel and catcher Tim Federowicz make the journey to Triple A.
Among players who have primarily been catchers in their careers, Olivo ranks 32nd all-time with 145 home runs. Ahead of him are eight former Dodgers: Mike Piazza (1), Gary Carter (6), Roy Campanella (10), Todd Hundley (13), Ernie Lombardi (17), Ramon Hernandez (23), Charles Johnson (24) and Mike Lieberthal (31).
Chad Billingsley, meanwhile, has been moved to the 60-day disabled list, which would still allow him to be activated in May. Billingsley, who made a rehab start April 6, received a platelet-rich plasma injection on Tuesday for elbow tendinitis last week.
The Dodgers can also add a 26th man to the roster for Thursday's doubleheader, based on a Collective Bargaining Agreement rule that allows clubs a 26-man roster for day-night doubleheaders if scheduled at least 48 hours in advance.
More roster changes could be coming in the next few days, based on a) what happens with Clayton Kershaw's rehab start with Double-A Chattanooga tonight and b) the potential need for a starting pitcher Sunday, so that Zack Greinke doesn't have to come back on three days' rest.
In other news and notes:
The Dodgers can expect to face a lefty in Minnesota after all. For their 26th man on Thursday, the Twins have called up Kris Johnson (not the former UCLA hoopster) to make his first Major League start.  Johnson pitched 10 1/3 innings in relief for the Pirates last year with a 6.10 ERA but 2.76 FIP. He has a 2.86 in 22 minor-league innings this year, with 20 strikeouts against 26 baserunners.
Carl Crawford makes his first start in the No. 9 slot of the batting order since September 20, 2003.
Adrian Gonzalez has been the top first baseman in the Majors in April, according to Jay Jaffe of SI.com. Dee Gordon was honorably mentioned at second base.
Greinke's performance to date is analyzed by Dustin Nosler at Dodgers Digest.
Maury Wills is featured in the final posting from the great series of Union Oil 1961 Family Booklets, presented by Ernest Reyes at Blue Heaven.
From the Dodger press notes: "The Dodgers will fly more than 6,200 miles during this trip as they touch points to the extreme north, south, east and west of the continental United States."