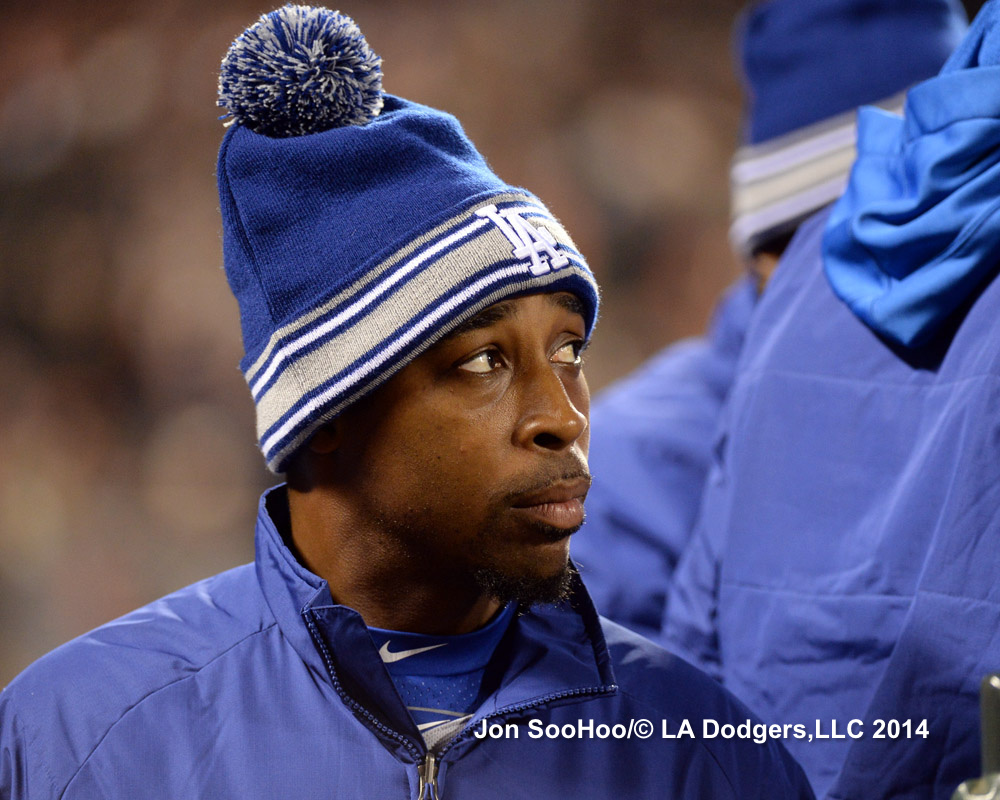 Dodgers at Mets, 4:10 p.m.
Chone Figgins, 2B
Yasiel Puig, RF
Hanley Ramirez, SS
Adrian Gonzalez, 1B
Matt Kemp, CF
Scott Van Slyke, LF
Justin Turner, 3B
A.J. Ellis, C
Zack Greinke, P
By Jon Weisman
There was some scoffing when Chone Figgins signed on to reboot his Major League career with the Dodgers, but so far, so good.
Figgins has developed a fairly specific role with the Dodgers: Come off the bench to lead off an inning and, without any seeming threat of power, get on base.
In his 27 plate appearances so far this season, 16 of them have been as the first batter of an inning, and he has a .500 on-base percentage (and .455 slugging percentage) in those situations. He also has a .474 OBP as a pinch-hitter.
Tonight, in the Dodgers' 48th game, Figgins makes only his third start of the year, though his rate should increase now that Juan Uribe is on the disabled list and Justin Turner will be needed over there. Dee Gordon still hasn't been a convincing hitter against left-handed pitchers, registering a .200 on-base percentage (8 for 40 with no walks) and .250 slugging percentage this year. It would be going too far to say he can't improve those numbers, but against Mets lefty Jonathon Niese (2.54 ERA, .446 right-handed opponents' OPS), it's a sensible enough time to let Gordon come off the bench.
As Eric Stephen of True Blue L.A. pointed out, today is the first start at second base for Figgins since October 3, 2010. What's funny is that Figgins played 1,417 out of a possible 1,438 innings at second base for Seattle that year, but hasn't played a Major League inning at second base since. Just for kicks, here's his career positional appearance chart from Baseball-Reference.com.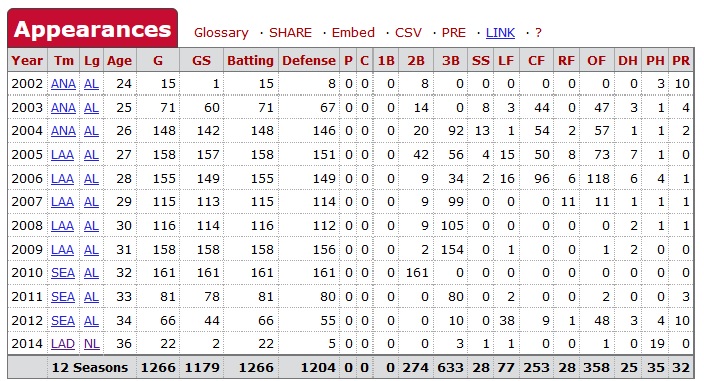 In other news and notes:
As many surmised would happen, the Dodgers released Miguel Olivo today, leaving 39 players on their 40-man roster, plus Chad Billingsley, Scott Elbert and Onelki Garcia on the 60-day disabled list.
The Dodgers have beaten the Mets in 11 out of their past 12 games, more than erasing the damage from their 1-10 regular-season showing in 1988. (That was the last year I worried about what regular-season matchups told us about the postseason.) All-time, the Dodgers are 321-259 against the Mets in the regular season, 4-6 in the postseason.
From the Dodgers public relations department: "The Dodgers lead the Majors with 55 overall double plays, including an MLB-best 52 ground ball double plays."
A really nice story on Dodger bullpen catcher Steve Cilladi comes from Stephen.
Yasiel Puig's defense is analyzed by Mark Simon of ESPN.com.
SportsNet LA will show Game 7 of the 1965 World Series on Memorial Day at 10 p.m.