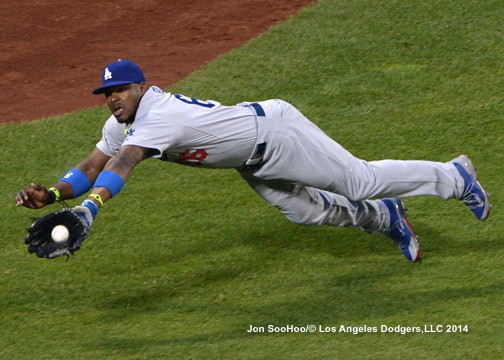 Jon SooHoo was all over the Yasiel Puig catch Friday. Check out his photos at LA Photog Blog.
Dodgers at Phillies, 4:05 p.m.
Kershaw CLXXXVII: Kershawue Detective
Dee Gordon, 2B
Chone Figgins, 3B
Yasiel Puig, RF
Adrian Gonzalez, 1B
Andre Ethier, CF
Carl Crawford, LF
A.J. Ellis, C
Erisbel Arruebarrena, SS
Clayton Kershaw, P
By Jon Weisman
Erisbel Arruebarrena gets his first Major League start tonight, as Hanley Ramirez takes a day off.
Andre Ethier is starting in center field, and there are hints that we might see more of him out there, as concern over Matt Kemp's defensive performance has become more explicit. From Ken Gurnick of MLB.com:
"We continue to look at it and give Matt the opportunity to keep working and get better," Mattingly said. "He doesn't look the same. The burst, the outrun-the-ball thing. We've talked to Matt and don't hear anything medically that he's not feeling good. We just want to see the same burst. We don't know if it's a matter of him being out a few years. He's trying, been working and we'll continue to go from there."

Four extra-base hits cleared Kemp's head, contributing to all four Mets runs, one of them scoring because Kemp dropped a ball he picked up off the warning track.

"I just need to play better defense," said Kemp. "Burst or anything, I'm not getting as good a jump as I need to. I cost us one run bobbling the ball, and it's nobody's fault but mine. No excuses. I've made a couple bad plays in the outfield. It happens."
Either's on-base percentage fell to .247 on April 24. Since then, in 62 plate appearances, he has a .419 on-base percentage and .455 slugging, with no home runs but six doubles and six walks. He has started 12 of the Dodgers' 23 games in that stretch.