[mlbvideo id="33202719″ width="550″ height="308″ /]
By Jon Weisman
I haven't had my heart beating in the middle innings of a game in May like that since I don't know when.
Four perfect innings, four pristine innings for Hyun-Jin Ryu, and in the top of the fifth, I started to entertain the thought. Could it be back-to-back no-hitters for the Dodgers?
It went from a lark to a distinct, imagine-all-the-ways-we'll-(carefully)-celebrate possibility as Ryu mowed down the Reds in the fifth, sixth and seven innings. Six outs to go.
Stretch time. It's been building, but the crowd is completely into it now.

— Dodger Insider (@DodgerInsider) May 27, 2014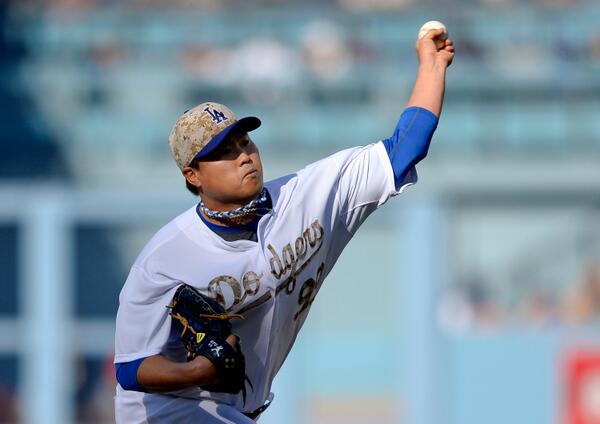 Already, the Dodgers had smashed their Los Angeles record for consecutive hitless innings, boosting it from 12 to 17, dating back to Paul Maholm's inning on Saturday. But history truly stood two innings on the horizon.
But far from the back of my mind was the fact that the Dodgers were nursing a 1-0 lead in a game that still held the possibility of turning on an ugly dime, a game that could move them back into second place in the National League West and into playoff position but also become a depressing setback.
So when Ryu came to bat with runners on second and third and one out in the bottom of the seventh, as much as my heart wanted him to take three called strikes, my head was saying go for it. Ryu ended up driving in a run on a fielder's choice/error, putting him on base instead of at rest in the dugout.
Lopes brings the windbreaker to Ryu at first base. It's 74 degrees out with a win thrill factor of 100, but Ryu is staying cool. — Dodger Insider (@DodgerInsider) May 27, 2014
Ryu didn't end the inning on the basepaths. He came home to score, running pretty hard, on Carl Crawford's two-run double, a shot that gave the Dodgers a 4-0 lead, and spent two more batters in the dugout before taking the field in the top of the eighth.
He had only thrown 81 pitches through seven innings, so it's hard not to wonder whether that was the deathblow for Ryu's perfect game, especially when it fell by the wayside two pitches into the eighth: ball one to Todd Frazier, double down the left-field line. Soon enough, Dodger fans were desperately trying to hang on for dear life, the Dodgers nearly surrendering everything before winning, 4-3.
[mlbvideo id="33205265″ width="400″ height="224″ /]
Every game that isn't perfect contains a certain amount of what might have been. For the Dodgers, winning the game meant that this one had fewer WMHBs than others … and yet it had so much more.