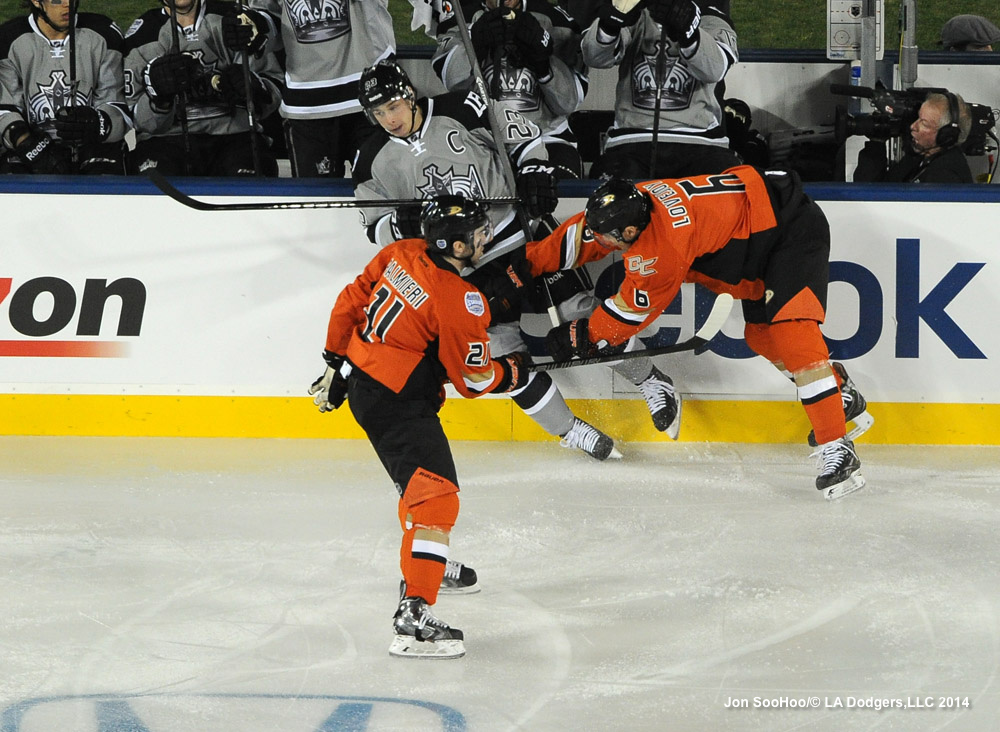 By Jon Weisman
The Los Angeles Kings, the darlings of the city and a sports league right now, played at our fair Dodger Stadium on January 25 and, despite no small amount of pomp and electricity surrounding them, more or less stunk it up. They were shut out, 3-0. It was the Kings' fifth straight loss, midway through a stretch when they would lose nine out of 10.
If you ignored the NHL's scoring system for overtime losses and looked strictly at won-lost records, the potential Stanley Cup champions were 30-28 four months ago.
The Los Angeles Dodgers, darlings of no one right now, were 30-28 four days ago.
With many more games to play.
There's obviously a lot of disenchantment with the Dodgers right now, but I can't escape feeling that the current crisis is much ado about timing.
Earlier in the season, they were hitting solidly (even today, the offense remains second in the National League statistically overall and — hope you're sitting down for this — with runners in scoring position), but the defense and bullpen leaked. Now, the pitching's doing swimmingly and the fielding's half-decent, but the hitting is in a slump.
That's baseball. I feel like I've seen it a hundred times. It's great to score 7 when you allow 6 or allow 1 when you only score 2, but you can't control that. Maybe there's a way to will yourself to victory, but if a century-plus of the sport's history is any evidence, that skill is ephemeral. (Not for nothing: Last year's NL champions, the oh-so-respected St. Louis Cardinals, are 31-29, losers of seven of their past 10.)
Meanwhile, if you've hit the wall but you're still above .500, that's a good thing.
The only lesson people seem to have taken from 2013's memorable run is "the Dodgers won't go 42-8 again." That's probably true, but they don't need to go 42-8 again. Last year's team was terrible (32-40) on one side of that run and mediocre (20-20) on the other. And they won the division by 11 games.
The current Dodgers are one game over .500. That still leaves them five weeks ahead of last year's team, which didn't make it back over .500 until July 13.
Now, I don't really doubt that the 2014 Giants might be more formidable than the 2013 Diamondbacks, and if the Dodgers don't get their act (that is, their timing) together, and the Giants never lose theirs, that'll be that. But while 42-8 is rare in baseball history, a rapid reversal of fortune is anything but. Here are just a few examples of many:
The 2006 Dodgers went 1-13 to start the second half of the season to fall to 47-55 and last place in the division, 7 1/2 games out of first. They then won 11 games in a row and 17 out of 18, and tied for the division title.
The 2008 Dodgers lost 10 out of 11 to fall to 65-70 with 30 days left in the season. One eight-game winning streak later, they were in first place to stay and ultimately on their way to the NLCS.
The 2009 Dodgers, on this date five years ago, were 37-18 and led the NL West by 9 1/2 games. With two games to go in the season, the Colorado Rockies were playing at Dodger Stadium for a chance to tie for the division lead.
This year's Boston Red Sox, defending their World Series title, just followed a 10-game losing streak with a seven-game winning streak. And now they're back on a three-game losing streak. Are they good or bad? It's obviously too soon to say. They're 8 1/2 games out of first place in the American League East, but a month from now, they could be in first.
I could go on. I really could.
The 2014 Dodgers have lost six of their past eight games, immediately after winning six of their past eight games. They have been hard to watch, and if they remain that way, there goes your season. I'm not saying the Dodgers don't have mechanical or even spiritual problems to solve. I'm not saying the Dodgers don't have to do better. I'm saying it's silly to think they can't do better. The expiration date has not arrived.
Just ask the Kings, a team that, like the Dodgers, got stopped in their sport's final four in 2013, then fell down at Dodger Stadium before finding themselves again.