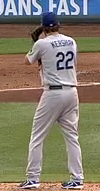 By Jon Weisman
Not intending at all to knock down the no-hit magic, but was Clayton Kershaw that much less impressive in his follow-up tonight at Kansas City?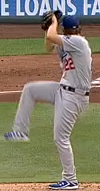 Seven Royals reached base against the Dodger lefty, two of them in the fourth, two again in the seventh, all with nothing more than a 1-0 lead. And seven were stranded.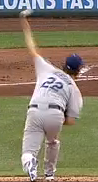 It won't go down in history, but it will go down as the latest moment of greatness for Kershaw.
Kershaw has a way of putting to rest the kind of doubts that can crop up among even his biggest supporters, myself among them when he came out for the eighth after a heavy-duty seventh that required him to escape a two-on, one-out jam while passing the 100-pitch mark. In that eighth inning, Kershaw found yet another gear, retiring the Royals in order on six pitches, including his eighth strikeout.
In doing so, he made it possible for the Dodgers' lone run to that point in the game stand up, a run that came thanks mainly to the first batter of the game.
Justin Turner, making his first leadoff start of the year, took Royals starter Danny Duffy to 11 pitches before tripling to right-center, then scored three batters later on an Adrian Gonzalez force out. (Yasiel Puig helped keep the inning alive by narrowly beating out an infield grounder for a single.)
In the ninth inning, the Dodgers bookended their offensive efforts with a walk by Gonzalez and singles by A.J. Ellis and pinch-hitter Andre Ethier, giving themselves a 2-0 lead and sending Kershaw to rest with the following line: eight innings, six hits, one walk, eight strikeouts. Since May 17, Kershaw has thrown 50 innings with a 1.26 ERA and 66 strikeouts against 30 hits and six walks. His past 21 innings have been scoreless.
Kenley Jansen pitched a perfect ninth to save the Dodgers' victory, improving their record to 43-36 and Kershaw's to 8-2. Despite missing more than a month of the season, this is the earliest in his career that Kershaw has been credited with eight wins, showing once again that wins march to the beat of their own drummer.
Then again, so does Kershaw.
Kershaw first P since Tommy Greene in 1991 to throw at least 8 shutout innings in first start after a no-hitter (via @MLBNetwork)

— Dodger Insider (@DodgerInsider) June 25, 2014
Kershaw lowers ERA to 2.24, now first on Dodgers and third in NL with 72 1/3 innings (needs 79 to qualify).

— Dodger Insider (@DodgerInsider) June 25, 2014
Kershaw's pursuit of Johnny V ended on something of a high pitch. (Via @brooksbaseball) pic.twitter.com/76xLulnkDF

— Dodger Insider (@DodgerInsider) June 25, 2014