By Jon Weisman
This post really began with modest scope in mind, but as with all things Clayton Kershaw, it evolved into something greater.
In fact, a big chunk of the work I intended to do was nicely done for me. While I bided my time this morning at a doctor's appointment, Mike Akisa of CBS Eye on Baseball put together this: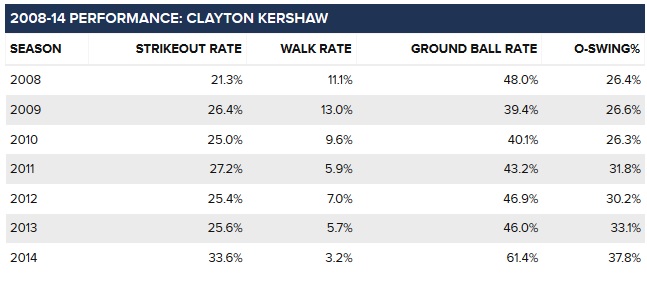 On a rate basis, Kershaw is striking out a career-high number of hitters, walking a career-low number of hitters, and getting a career-high number of ground balls. He is also getting hitters to chase more pitches out of the strike zone (O-Swing%) than ever before.
At some point, Clayton Kershaw is going to decline. Nothing is forever. It's hard to look at certain pitchers for the San Francisco Giants, for example, and despite their differences, not see cautionary tales. To say the least, the greater Kershaw is, the more the landscape unfolds for that decline to come.
But what we've been seeing is just so much madness. You think you know how good he has become, but you really don't.
This, after all, is a pitcher, who used to be done in by command issues and pitch counts. Even last year, Kershaw walked his 10th man of the season in his 32nd inning. Now he has nine walks in 72 1/3 innings? Now he's making Greg Maddux look loosey-goosey?
Strikeout/walk ratio in a single season (minimum 70 innings)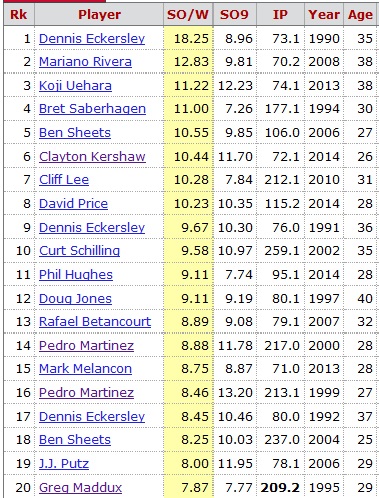 And for all this talk of improvement, for all the notes passed around class Tuesday night about his 0.97 ERA in June, let's not lose sight of this: the overall greatness is not new.
On July 24, 2012, Kershaw was an out away from escaping the sixth inning of a start at St. Louis having allowed three runs. A walk, a single and a double later, Kershaw had been torched for six runs in the inning and eight in the game.
Since that date, here are his numbers: A 1.84 ERA in 56 starts and 395 2/3 innings (7.1 innings per start), with 419 strikeouts (9.5 K/9) against 368 baserunners.
Staggering.
[mlbvideo id="34013905″ width="550″ height="308″ /]
Kershaw would be the first to tell you that none of this really matters until his team reaches the promised land of the World Series. But in my lifetime, no pitcher has done more in the regular season to get the Dodgers there than Kershaw. Not even Orel Hershiser, whose peak years from 1984-89 (132 ERA+, 3.00 FIP) don't match up to the entirety of Kershaw's career to date (147 ERA+, 2.81 IP), including Kershaw's relatively wild rookie days. Hershiser's landmark 1988 season (7.2 WAR) even trails Kershaw's 2013 (7.8 WAR).
Kershaw still has one demon to slay, his postseason wipeout at St. Louis on October 18. His 2013 postseason ERA before that start was 0.47, with 23 strikeouts in 19 innings. Then, he allowed seven runs in 10 innings, and instead of forcing a winner-take-all game for the pennant, the Dodgers were done.
Kershaw was 25 1/2 years old for that start. Twenty-nine years earlier, when Hershiser was 27, he started his own Game 6 of the National League Championship Series against St. Louis. It was the Jack Clark game, but usually forgotten in accounts of that disappointment is that Hershiser was in trouble most of that day, and finally gave away the Dodgers' 4-1 lead in a three-run seventh inning (completed, dishearteningly, by an Ozzie Smith triple off Tom Niedenfuer, which at the time seemed as low as things could go, especially after Niedenfuer struck out Clark and Andy Van Slyke to end the seventh).
It wasn't for three more years, until Hershiser was 30, that he was allowed to conquer the postseason beast. For that matter, Sandy Koufax, the player Kershaw can be best compared to — without apology — was 27 before he won his first postseason start, 27 before he won his Cy Young Award.
Clayton Kershaw is 26. He is, as he has almost always been, ahead of his time. That should give you chills.