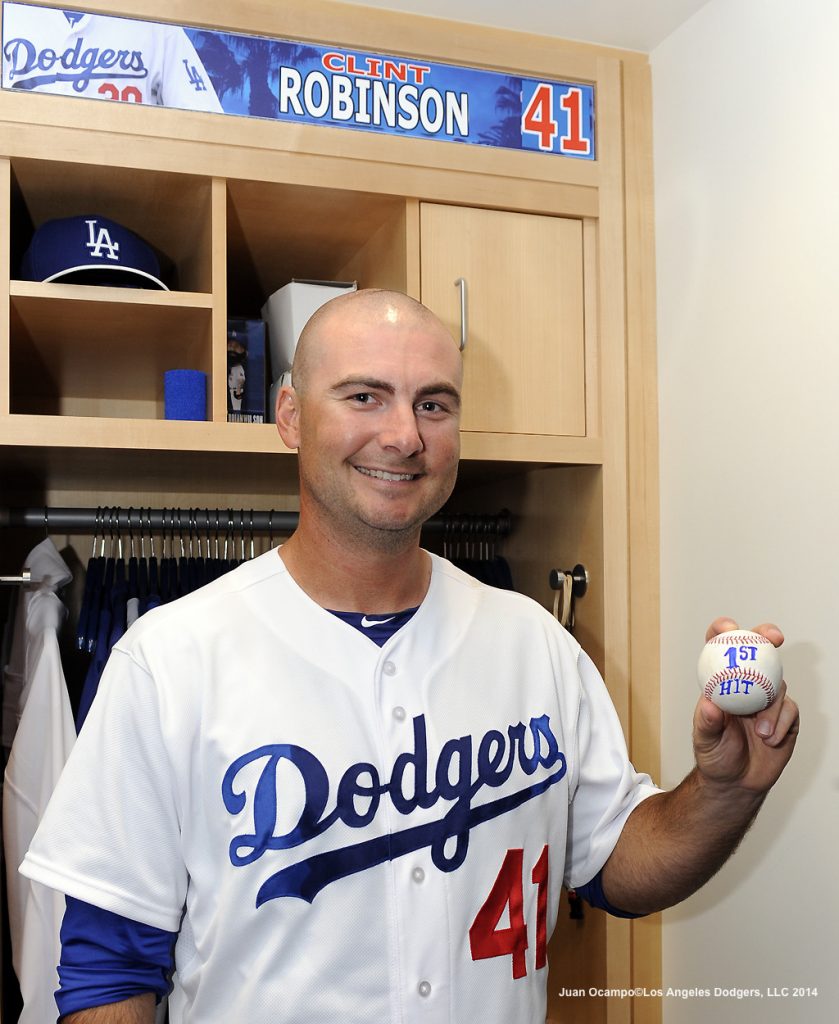 By Jon Weisman
Seven and a half months before his 30th birthday, Clint Robinson got his first Major League hit. That it was a game-winning hit was obviously no small bonus, but as Dylan Hernandez of the Times wrote, "the two months Manager Don Mattingly's team spent chasing the Giants was nothing compared to how long Robinson waited for to live a dream."
"Twenty-nine years and counting," Robinson told Hernandez. "I have so many emotions right now, it's kind of hard to even put words together.
"Man, that feels good," Robinson said he told himself as he reached first base, Hernandez added.
Hernandez reported that Robinson has never considered retirement.
"Everybody wants to talk about being 29 years old and being in the minor leagues for eight years, but I really enjoy my job," Robinson said. "I still get paid to come to the ballpark every day and play baseball. Everybody says it's a grind in the minor leagues, but it's still something I love to do."
Eric Stephen of True Blue L.A. noted that Robinson's family was with him in spirit, even if his wife, Samantha, was the only member in attendance.
"She flew in the other day. She's the only one here right now," Robinson said. "My dad stays away from the ballpark because he gets more nervous than anybody. I don't think he would be able to handle it. I'm sure he's at home in his office listening on his computer jumping around like a crazy person."
Ken Gurnick of MLB.com wrote that Don Mattingly was pleased but not surprised at Robinson's hit, saying that Robinson in Spring Training reminded him of former American League batting titlist John Olerud.
"He's (got) a real simple swing and has had good Minor League numbers for years," Mattingly said. "We liked his swing, and he was kind of tearing it up in Triple-A. It was good to see him have another chance."
For the time being, Robinson's place on the Dodger roster hinges on the recoveries of Carl Crawford and either Justin Turner or Chone Figgins as well as the overall health of Hanley Ramirez. (Carlos Triunfel might be the first choice to return to Albuquerque if the Dodgers activated an infielder.) With none of the injured trio looking at an imminent return, that could keep Robinson with Los Angeles until at least the All-Star Break, giving him more opportunities to make noise off the bench.